Quick Links to Best Prices Price History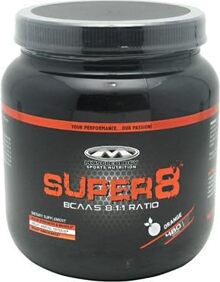 Muscleology Super 8 | Now on Sale at

BCAA's 8:1:1 ratio. Formulated with optimal performance in mind,whether you are the traditional sports athlete, endurance competitor, orstrength training for physique; Super 8's specialized blend willprovide your body with the fuel necessary to break through plateaus andperform at a superior level.

Muscleology's Research and Development teamhas created an incredibly advanced 8:1:1 ratio of InstantizedLeucine:Isoleucine:Valine in combination with an EAA (Essential AminoAcid) and Electrolyte blends. Benefiting athletes by prolonging thebody's ability to remain in an anabolic state and evading physiologicalfatigue and muscle breakdown.

Significant increases in muscle mass,strength, stamina and hydration will be attained with consistentconsumption of Super 8. Allowing you to gain a safe advantage over othercompetitors.