Quick Links to Best Prices Price History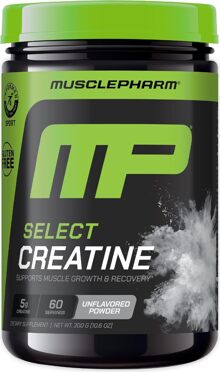 Strength. Power. Endurance.
MusclePharm's Core Series Creatine is the ultimate blend of 5 different types of creatine. Our Goal was to give your body the range of benefits from one of the world's most effective supplements.*
MusclePharm Core Series Creatine increases creatine status by enhancing uptake and bioavailability and also fuels stamina, strength and lean muscle growth.* Many athletes who engage in high-intensity/short duration exercises like weightlifting use creatine. The clinically-proven ingredient Cinnulin heightens absorption, which assists our five pure and diverse creatine complexes delivering a range of benefits will launch directly into muscles. MP Creatine increases explosive energy, ATP energy and overall power.
Con-Cret Creatine HCL (100% Concentrated Creatine)
Suggested to help increase blood plasma uptake*
Lessens the risk of bloating and upset stomach*
Highly pure and contains no additives, stimulants, sugars or fillers
Creatine AAB (Creatine Alpha-Amino-N-Butyrate)
Provides anti-catabolic support*
The alpha-amino-n-butyrate assists with proteisn synthesis and helps minimize damage*
Absorption of ingredients is supported*
Dicreatine Malate
Highly soluble creatine salt
Promotes creatine bioavailability and ATP production*
Supports muscle size and strength*
Helps prevent lactic acid buildup*
Creatine Magnapower (Creatine-Magesium Chelate)
Creatine-Magnesium Chelate maximizes creatine storage and uptake to muscle tissue*
Protects creatine from cyclization, providing more active creatine*
Provides creatine and magnesium for ATP synthesis, improving muscle mass growth and strength*
Increases the co-absorption of magnesium*
Creatine Monohydrate
Purest form of creatine monohydrate
Serves as an immediate reserve for ATP during exercise*
Supports increased training capacity and muscle mass*
Cinnulin PF
Helps maintain a healthy glucose metabolism*
Supports healthy glucose and blood pressure levels already in normal range*