Quick Links to Our Prices Price History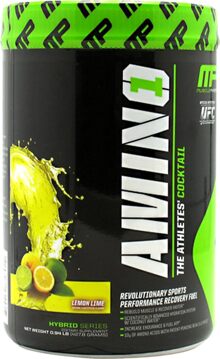 Specially formulated for all athletes, quick-absorbing Amino 1 brings stamina, hydration, muscle building and in-workout recovery in "1" comprehensive formula. Amino 1 gives you power and supplies free form amino acids, instantized BCAAs, and a complete electrolyte balance.*
Our Amino1 Review
Watch Mike and CJ take down some Amino1. In short... it's strong but delicious:
Coming soon... the Amino1 RTD Sports Drink!
---
Get notified when Amino1 RTDs are available!
Sign up for notifications on this page and we'll email you when Amino 1 RTD is out. After that, you'll also receive price drop notifications so that you always get the best deal.
---
Key Benefits
Sustained Energy And Great Taste For Increased Endurance*
Delicious Tasting And Only 5 Calories Per Serving*
Caffeine And Sugar Free - Can Be Used Anytime, Day Or Night*
Anti-Catabolic / Muscle Sparing*
Mixes Easily And Completely / No Clumping
Promotes Recovery From Training Sessions*
Quick Absorbing:
Amino 1 was designed for athletes and contains over 10,000mg of amino acids—patent pending 3:1:2 ratio instantized BCAAs—for sustained stamina and muscle building.
Amino1 Helps Athletes Work Through Soreness:
Amino 1 delivers nutrients through multiple pathways, maximizing your body's overall ability to transport, deliver nutrients, and ultimately support recovery.* No other sports drink supplies as much power in the needed time interval, making this the ultimate in-workout recovery drink.
Advanced Hydration & Electrolyte System:
All-natural coconut water concentrate is one of nature's superfoods, a complete balance of electrolytes and minerals—and it maximizes uptake. It is superior to manufactured sports drinks. This is why the sports world has turned to coconut water concentrate as a rehydration source.