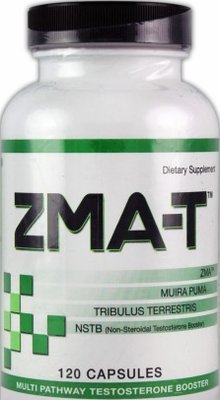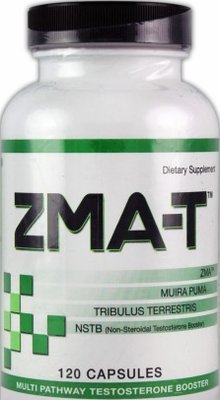 ZMA-T with ZMA is an innovative product
combining the effectiveness of ZMA and the time-tested traditional herbals, Tribulus terrestris and muira puma. Tribulus terrestris stimulates the secretion of leutinizing hormone (LH) from the anterior pituitary gland, which in turn triggers testosterone production.* The active compounds of tribulus terrestris that may be responsible for its anabolic properties are the furostanol saponins, including protodioscin.*
Muira puma, an herb native to the Amazonian rain basin, has been used as a powerful sexual health support for many years.* The exciting new vitamin-and-mineral combination called ZMA is a unique, patent-pending mineral support formula containing highly bioavailable forms of zinc and magnesium as zinc l-monomethionine (L-OptiZinc - U.S. Patents 4,764,633 and 5,278,329) and covalently-bound zinc/magnesium aspartate.
Formulated with vitamin B6, to further enhance zinc and magnesium absorption and utilization, ZMA is a powerful non-steroidal, all-natural dietary supplement clinically suggested to increase free testosterone, total testosterone and insulin-like growth factor (IGF-1) more than a placebo during a strength-training program.*
Supplementing your diet with ZMA-T is the natural choice for all athletes seeking a nonsteroidal approach to enhancing testosterone production.*
Benefits:
Natural testosterone support*
Increases sports performance *
Enhances virility*
Supports sexual health*
Optimizes creatine function*
Contains the zinc/magnesium/B6 combination found in ZMA
References
Brilla, L. and Conte, V., (in press). A Novel Zinc and Magnesium Formulation (ZMA) Increases Anabolic Hormones and Strength in Athletes. Sports Med Train Rehab J.
Brilla, L. and Conte, V., (1999). Effects of Zinc-Magnesium (ZMA) Supplementation on Muscle Attributes of Football Players. Med Sci Sports Exer, 31(5):483, May.