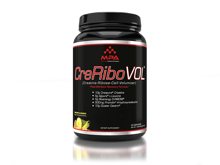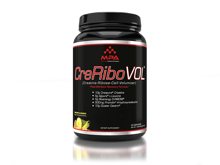 Post-Workout Recovery Formula! Creatine-Ribose Cell Volumizer!
BioEnergy D-Ribose - 5 grams of trademarked brand D- Ribose. Supports skeletal muscle and cardiac muscle ATP production.

Cluster Dextrin --10 grams of High molecular weight, low osmotic, easy digesting carbohydrates. Works synergistically with Leucine, 4-HIL, and Ribose to augment insulin production just enough for creatine uptake into muscle cells.

Ajipure L-Leucine -- 5 grams of vegetarian fermented, high quality Leucine. Ignites mTOR response, and possesses insulinogenic properties for enhancing muscle recovery and nutrient uptake into muscle cells.

Promilin 4-hydroxyisoleucine - 500 mg of 4-HIL per serving aids in a magnified insulin response to efficiently shuttle creatine, ribose, and leucine into muscle cells.
The fancy ads in magazines in the early 2000's were epic! You might have seen very sophisticated men wearing white lab coats holding glass beakers and other nifty devices. You would often see loud claims of specific ingredients blown out of proportion -- which enticed the innocent reader, baiting and reeling them in for the purchase.
Now, albeit the ads were outlandish and sensational, some products in this category of supplementation had merit. Some of these post-workout formulas were very close to being spectacular products, but the science back then wasn't as thorough and consistent as it is today. You see, back then, it was common practice to super-saturate? formula's with excessive amounts of dextrose or glucose to facilitate insulin signaling to induce nutrient uptake.
The idea was to ignite a strong insulin surge through a bolus sugar load, which in turn would transport creatine, glucose, & protein straight into starved muscle cells.
This seemed great on paper for the time -- in fact, it even produced great gains for true ectomorphic-somatotypes...a.k.a. "Hard-Gainers."
However, the rest of the population gained about 10 lbs in 3-4 days of straight water-retention! Even worse, after the 3-4 days of rapid water retention, you then started to replace the water-weight gains with fat tissue accrual. This unfortunately happens from excess sugars storing into fat cells, or causing high insulin levels driving dietary fat into adipose sites.
I personally responded well to these sugary, creatine cocktails, but know that most people got watery and fat, so I wanted to make these potential "powerhouse" drinks do everything they should have done 15 years ago.
ENTER CRERIBOVOL
I chose very precise ingredients for this formula because I am a picky son of a gun. I wanted a formula that would potentiate insulin production, yet NOT flood the body with excessive carbohydrates. You see, insulin is an interesting growth promoting compound, as it can grow all tissues. Therefore you must be prudent with your nutrition protocol when insulin levels are elevated.
CRERIBOVOL UTILIZES THE FOLLOWING INGREDIENTS TO POTENTIATE INSULIN:
-High quality L-Leucine (AjiPur)
-Cluster Dextrin
-4-hydroxyisoleucine (Promilin)
I PURPOSELY USED ONLY 10 GRAMS OF CLUSTER DEXTRIN FOR A FEW REASONS:
1.) Possesses a synergistic effect with 4-hydroxy-isoleucine + L-Leucine for augmenting an insulin response.
2.) Formulas back in the day were overloaded with simple sugars -- oftentimes making people bloated & fat.
3.) Excessive carbs are NOT needed to spike insulin for creatine uptake, and the upcoming whey protein shake that should follow CreRiboVOL.
4.) Allow athletes to utilize CreRiboVOL during contest prep/dieting or off-season/gaining since the carb count is minimal.
5.) I don't wish to be like other companies and cheapen up my products with worthless fillers or excessive carbohydrates.
Note: Manufacturers continually change product specifications. While we try our best to keep product descriptions up to date, they do not necessarily reflect the latest information available from the manufacturer. We are not responsible for incorrect or outdated product descriptions and/or images.