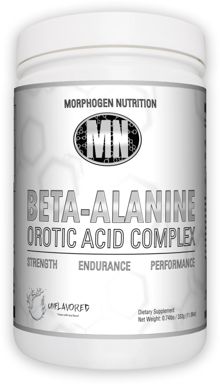 Morphogen Nutrition Beta-Alanine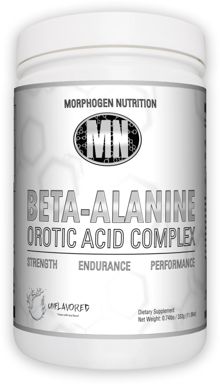 Morphogen Nutrition Beta-Alanine
*NOTE*
This product has "expired" and is being offered at a drastically reduced price.
This expiration date is arbitrary and doesn't actually affect the safety or efficacy of the product.
The FDA requires all supplements to have an arbitrary 2 year expiration date stamped on all units at the time of manufacturing, but this doesn't include the time that the bulk raw materials have been in storage with the contract manufacturers before being made into a store-ready product.
We are confident that these units are safe and effective, and instead of discarding them we wanted to be able to offer them at heavy discount.

STRENGTH / ENDURANCE / PERFORMANCE
May assist with muscular strength and endurance
May assist with decreasing fatigue

May assist with increasing performance

May assist with increasing increasing skeletal muscle hypertrophy

May assist with regulating ATP levels

May assist with increasing glucose uptake

May assist with preventing lipid oxidation in the bloodstream

May assist with protecting bone structure and supporting muscle function

Antioxidant and anti-inflammatory
Recommended Use: As a dietary supplement, mix 1 scoop (3.7g) with 8-12oz. beverage of choice. Consume 1-2 scoops per day as needed to achieve desired performance benefits.
Dosing Options:
1 scoop first thing AM in NUTRIGEN.
1 scoop 15-30 min. pre-workout mixed with VOLUGEN.
1 scoop intra-workout mixed with SYNTHEGEN and/or HEXAGEN.
1 scoop post-workout mixed with PROTEGEN.
Beta-alanine
The rate limiting amino acid in carnosine synthesis (when combined with histidine in the body, which is readily available).

Carnosine acts as a buffer of acid in muscles, increasing physical performance and delaying fatigue.

Beta-alanine can cause slight tingling of the extremities called paresthesia, which is a harmless side effect that quickly dissipates.

Research suggests 3.2-6.4g/day, either all at once or in divided doses.

BETA-ALANINE OROTIC ACID COMPLEX contains 3.2g beta-alanine per serving.
Orotic Acid
Orotic acid, also known as pyrimidine carboxylic acid, is a heterocyclic compound related to the B vitamins. It is essential for the excretory, cardiovascular, immune, muscular and nervous systems.

Increases carnosine levels and buffers acid build-up, delaying muscular fatigue.

Maintains ATP pools and increases glucose uptake and glycogen stores.

Enhances muscle hypertrophy via RNA synthesis.

Supports cardiovascular support, boosts cardiac contractility and prevents the accumulation of cholesterol plaques in blood vessels.

Helps in the regeneration of liver cells and is hepatoprotective.

Research suggests 500-1,000mg per day.

BETA-ALANINE OROTIC ACID COMPLEX contains 500mg orotic acid per serving.
This is NOT just another weak herbal "test booster" commonly sold in today's supplement industry. We only use the most potent ingredients designed to elicit the highest level of hormone modulation as permissible by drug testing governing bodies. - See more at: http://morphogennutrition.myshopify.com/products/morphotest#sthash.hNbkrnS9.dpuf
Warnings: Not intended for use by persons under the age of 18. If you are pregnant or nursing or are taking any prescription medications, consult your health care professional before using this or any other dietary supplement product. Contact your health care professional before using this or any other dietary supplement product. Immediately discontinue use and consult your doctor if any adverse reactions occur. KEEP OUT OF REACH OF CHILDREN. STORE IN A COOL, DRY PLACE AND AVOID EXCESSIVE HEAT.
ALLERGEN INFORMATION: This product is manufactured in a facility that processes other products which may contain soy, dairy, wheat, tree nuts, shellfish, fish, peanuts, and eggs.
*These statements have not been evaluated by the Food and Drug Administration. This product is not intended to diagnose, treat, cure, or prevent any disease.