Quick Links to Best Prices Price History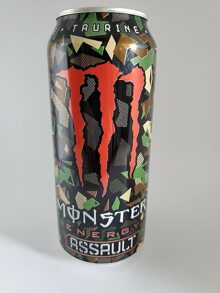 Monster Assault Energy Drink case of 24 Now On Sale At .com
Unleash The Beast!
What is Assault?

Soft drinks haven't changed much in 100 years, so Monster figured it was time for something new.
Monster went back to the lab and brewed up something wild, a drink for our times not a old time drink.
Monster Assault is a revolution in a can. Refreshing, like a soft drink, but loaded up with the same energy blend that makes Monster the meanest energy supplement on the planet. The unique taste is similar to a cherry coke.
What's up with that can?
At Monster they don't get too hung up on politics. They're not for "the War", against "the War," or any war for that matter.

They put the "camo" pattern on our new Monster Assault can because they think it looks cool. Plus it helps fire them up to fight the big multi-national companies who dominate the beverage business.

They'll leave politics to the politicians and just keep doing what they do best - make the meanest energy supplements on the planet!

Declare war on the ordinary! Grab a Monster Assault.and