Quick Links to Best Prices Price History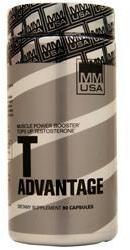 BENEFITS
Support a Boost in Testosterone Levels within a normal range*
Promotes Male Health*
Helps Maintain Lean Muscle Tissue*
Promotes Healthy Estrogen Levels already within a normal range*
Supports Mood, and Energy*
WHAT'S IN IT FOR YOU?
Avena Sativa: Helps Unlock Bound Testosterone To Support Increased Free T Levels within a normal range*
Chrysin: Natural Aromatase Inhibitor Helps Support a Boost In Testosterone and Support Healthy Estrogen Levels already within a normal range*
Ecdysterone: Powerful Anabolic Compound Promotes Lean Body Mass Nitrogen levels within a normal range*
Piperine: Boosts Synergistic Energy Effect By Enhancing Compound Bio-Availability*
WHY WE INVENTED THIS PRODUCT
Use it or lose it. If you're not constantly building muscle it can turn into flab. Ugly, disgusting fat. Blubber.
Now you can take back what nature is trying to steal: your testosterone.* And build and keep the body you want..
This bio-dynamic synthesis of natural elements will help support a boost in your physical energy, and maintain your mental and emotional edge.*
Bio-availability and advanced fusion formulation means T™ goes to work fast to support fat loss.
T™ will is design to help support the building of harder, leaner, muscles and stronger bones.* So you can work out or play harder.*