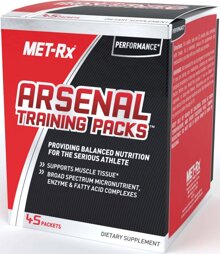 Met-Rx Arsenal Training Packs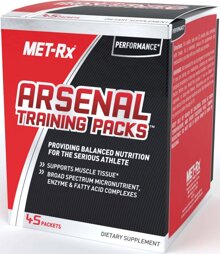 Met-Rx Arsenal Training Packs
Arsenal
Training
Packs
If you think you can get all the nutrients you need to support a serious bodybuilding or athletic training program in one generic multivitamin - think again. MET-Rx Arsenal Training Packs provide the firepower of essential vitamins, minerals, aminos, essential fats, digestive enzymes and other nutrients necessary to stay in the fight.*
The Scientific Approach to Combat
When going into battle, having the right artillery to get the job done is crucial. Instead of trying to cram a ridiculous amount of nutritional "weapons" into huge pills, MET-Rx Arsenal Training Packs offer a full armory of six pills, in their proper softgel and tablet forms.
Bulletproof Your Muscles
Essential fats are the bulletproof jackets for your muscles. They are required for the structure of all membranes in the body, including muscle membranes.* Intense training can cause short-term damage to muscle membranes and essential fats are needed to support their structure.* But here's the catch - did you know that not all essential fatty acids are equal? Next time someone recommends you scarf down some essential fats - make sure they are actually the essential fatty acids your body needs. While linoleic acid (Omega-6) is considered an essential fat - most diets provide an overabundance of Omega-6's while providing inadequate amounts of Omega-3's. MET-Rx Arsenal Training Packs provides the essential Omega-3's your muscles need and which may be lacking from your diet - in a softgel form for optimal stability and absorption.*
Antioxidant Armor
Consider antioxidants to be the second layer to your Bulletproof Muscle Vest. Hard training can spike free radical levels, which in turn can damage muscle cells. Antioxidants such as Vitamin C and Tocopherols may help to neutralize free radical induced damage.*
Multi-Enzymatic Battering Ram
If you want to optimize recovery after an intense battle in the gym, high quality protein and carbohydrates are a must to support muscle growth and repair.* Before any nutrients can get to your muscles enzymes must break down protein and carbs in the digestive tract.* Digestive enzymes can be especially beneficial for hardgainers who need to take in large amounts of calories immediately after exercise and throughout the day.*
Amino Bomb Complex
While some products sprinkle in a few amino acids, our formula contains over 15 essential and non-essential aminos including BCAAs, Tyrosine and more. There's even over a full gram of Arginine in every packet.
Artillery Performance Blend
MET-Rx Arsenal Training Packs go beyond the normal call of duty with a vast array of herbal compounds and other important ingredients needed for support of pre- and post-workout states.* Alpha Lipoic Acid, Acetyl L-Carnitine and Bioflavonoids round out his unique formula.
Other Hard-Hitting Features
Intense training can take a toll on your immune system. Each packet includes Selenium, Zinc and Vitamin A which may promote exercise recovery by supporting your immune system.* Building strong muscles is impossible without strong bones. MET-Rx Arsenal Training Packs provide several nutrients to support bone mass.*
MET-RX IS FUEL FOR THE LEGIT STRONG.
There is a difference between looking big and being strong. True strength takes dedication.