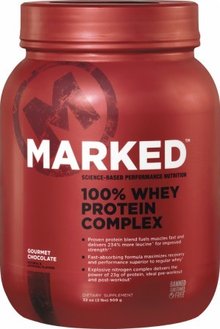 Marked Nutrition 100% Whey Protein Complex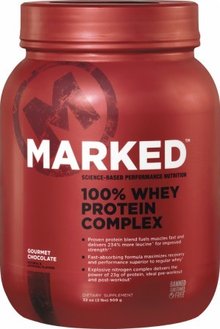 Marked Nutrition 100% Whey Protein Complex
A body marked by fitness is a body that people will envy. The new MARKED Nutrition line, a fitness supplement program which is the brainchild of super-fit superstar Mark Wahlberg, is stirring a lot of buzz in the supplement world.
The MARKED line isn't centered around one quick fix, but rather an entire product line to help users meet their individual fitness goals. The three benefits of the supplements featured in the MARKED line include building muscle mass, defining muscle tone, and maintaining a defined physique. MARKED promises users a total approach to achieving health goals and maintaining a level of optimum fitness. The product line boasts itself as a line of science-based performance products.
100% Whey Complex
The cornerstone of building mass and muscle definition is the 100% Whey Protein Complex featured in the MARKED line. The 100% Whey Protein Complex offers a concise way for your body to intake high amounts of mass-building protein. This blend is intended to fuel muscles and help repair depletion after a workout and aid in the body's recovery after high-calorie burning, high-impact workouts.
The Whey Advantage
Whey protein offers a distinct advantage over regular protein, and this particular supplement offered by the MARKED line contains 23 grams of nitrogen power in a mix that consists of whey and leucine. This specific ratio aids in the preservation of glycogen stores and the promotion of protein synthesis, which makes it ideal for pre-workout and post-workout ingestion. The concentrated injection of Whey into your body helps to stave off depletion and burn out, which allows your muscles to build up at a steady and healthy rate.
What's Behind Mark Wahlberg's Marked 100% Whey Protein Complex?
The formula is designed to be fast-absorbing inside your body in order to offer a fast recovery turn around time for your body's muscles. The unique formula includes glutamine and aminos, charged with fueling muscle recovery during the critical moments both before and after an intense workout session. Additional ingredients include simple additives like calcium, sodium, and potassium.
---
Is Mark Wahlberg's Line the Whey of the Future?
The demand for Whey supplements is in high order since athletes and fitness experts know it delivers quick results. Wahlbeg's Whey Complex manages to offer scientifically-sound nutrient combinations in a form that is easy to work into a busy lifestyle. Whey protein has one of the highest protein digestibility rates, when compared to other options such as casein. The Whey Complex formula includes digestive enzymes which facilitate quick absorption time for nutrients entering the body.
How Does it Taste?
The market's reception to MARKED 100% Whey Protein Complex has been positive. The supplements come in two palatable flavors, Gourmet Chocolate and Gourmet Vanilla.
It has taken Mark Wahlberg decades to build up an enviable body of work in the cinema in order to enjoy a respected reputation in the industry. But it just might be the body he has built up in the gym over decades that most people are truly envious of. Mark Wahlberg's 100% Whey Complex offers everyday people a taste of Wahlberg's success.
Side Effects
MARKED 100% Whey Protein Complex has no known side effects when used in recommended amounts. People suffering from milk or dairy allergies should avoid whey products, since they have a dairy concentration. It should be noted that the entire MARKED line is tested for known banned substances by a world-class anti-doping lab, which should give users an extra added peace of mind.
Marked 100% Whey Protein Complex is ideal for people who are committed to high-intensity workout sessions and who want to create a ripped physique while fortifying their muscles with protein in order to avoid burnout or fatigue.
Don't Miss the Weight Gainer!
Looking for more? Want to build faster (at the risk of adding more bodyfat)? Then check out
Marked Mass Gainer
, which is loaded with
maltodextrin
carbs
and
 protein!