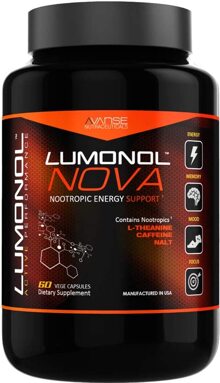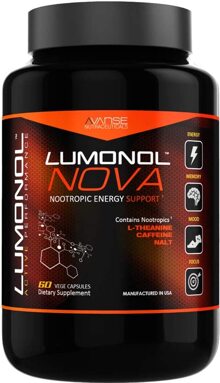 Make Lumonol Nova the ace up your sleeve! Peak performance now available to anyone…

Nova offers the world's first stellar combination of Caffeine Anhydrous, the soothing properties of L-Theanine, and the Dopamine increasing N-Acetyl L-Tyrosine (NALT), delivering untapped energy to power through the toughest of challenges…

Most people who take Lumonol quickly become accustomed to feeling their best, with the days of procrastination, excuses, and untapped potential long behind them†. You too can now make these things part of your past, and not your future.

Designed to support you throughout the day with pure energy. Supplement Lumonol with Nova to achieve optimal effect. The smooth, yet powerful shift in motivation, coupled with L-Theanine's "relaxation without sedation", aids Nova in literally shutting down lethargy, driving you to perform at your very best… Focused, Determined, Confident.

From an exhausting training session, to a 12 hour nightshift, Lumonol Nova is the perfect daily supplement to lift your spirits. Unleash untapped energy and drive to help you power through the toughest of challenges. Nova won't let you down.
More