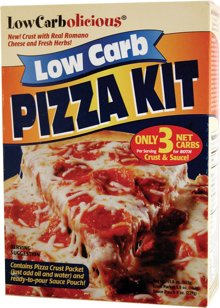 LowCarbolicious Low Carb Pizza Kit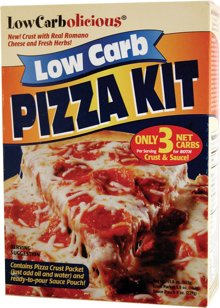 LowCarbolicious Low Carb Pizza Kit
LowCarbolicious Low Carb Pizza Kit Description
3 Net Carbs Per Slice for Both Crust & Sauce!
Contains Pizza Crust Packet (just add oil & water) and Ready to Pour Sauce Pouch! Bakes in Just 11 Minutes. Low Carb Pizza? It's True!

There are only two parts of a typical pizza that don't fit into a low-carb eating plan - the carb loaded crust and the pizza sauce, which is high in the natural sugars found in tomatoes. But who can live without pizza?

You don't have to! This is the only Low Carb Pizza Kit available with both crust AND sauce that fits in perfectly with your low-carb lifestyle. It has just 24 Net Carbs per ENTIRE 12" PIZZA, for both crust AND sauce (typical pizza has almost 40 carbs per SLICE).

The crisp, golden crust, made with real Romano cheese and fresh-ground herbs, bubbles over with our think and rich, spice-filled pizza sauce - a generous 8-ounce, 1-cup portion. So enjoy pizza again without worrying about the carbs! Fun and Foolproof!

The LowCarbolicious Pizza Kit contains two tear-open pouches - a crust mix to which you simply add oil and water, and a ready-to-pour, zesty sauce pouch full of rich tomatoes and fresh-ground spices.

Then get creative! Add your favorite no-carb pizza meat toppings (sausage, pepperoni, ground beef, bacon, Canadian bacon, chicken breast, etc.). For just a few extra carbs but lots of added vitamins, add green or red bell peppers, onion, garlic, mushrooms, or olives. Then pile on the protein-packed cheese! (most shredded cheeses are zero carbs, so be generous!)
Directions
Preheat oven to 550F. Generously grease a 12" thin-crust pizza pan with butter or cooking spray. Empty crust packet into a small bowl. Add 4 tablespoons vegetable or olive oil (or 1/2 stick melted butter), and 5 tablespoons plus 1 teaspoon water. Mix lightly with spoon until dough is a paste-like consistency. Gently spread on pan with spoon, all the way to edges of pan. Bake 5 minutes and remove from oven.

Pour on sauce pouch contents, then add your favorite pizza toppings (such as mushrooms, onions, green or red bell peppers, olives, garlic and/or pre-cooked Italian sausage, ground beef, pepperoni, bacon Canadian bacon or chicken). Top with lots of shredded mozzarella or "pizza blend" cheese and, if desired, sprinkle oregano or other pizza seasoning on top.

Bake 6 minutes or until crust is a crisp golden brown and cheese is bubbling and slightly brown on top. Let stand 3-5 minutes before slicing.
Disclaimer These statements have not been evaluated by the FDA. These products are not intended to diagnose, treat, cure, or prevent any disease.