Warning: This product is not currently available at any store.
Click the button above and PricePlow will email you when the first store has it in stock!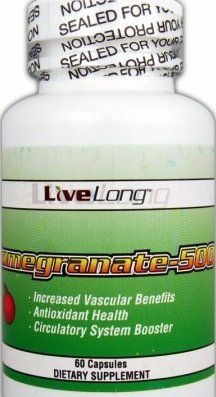 LiveLong Nutrition Pomegranate-500
SUPERCHARGED
SUPER-FOOD
Pomegranate-500 from LiveLong Nutrition is a concentrated Pomegranate extract containing one-of-a-kind antioxidants, polyphenols, bioflavanoids and is rich in vitamins, minerals and other nutrients. Studies suggest what many lovers of this fruit already knew. Pomegranate is a source of antioxidants, boasting more health promoting power than red wine, blueberries, green tea and cranberries. When it comes to healthy foods, Pomegranate takes the gold, and LiveLong Nutrition took things one step further, offering a calorie-free, mess-free form of this amazing fruit, so you can take advantage of the health-supporting benefits it offers, without all the stains and the unnecessary calories.*
HEART FRIENDLY
Pomegranate-500 from LiveLong Nutrition contains a highly purified concentration of the active compounds found in Pomegranate fruit, including unique compounds known as Punicalagins. In fact, no other fruit or berry contains this unique ingredient, and it has been studied for its effects on heart health. Researchers have investigated Punicalagins in order to figure out how it may help support healthy cholesterol and blood pressure levels already in healthy range.* The antioxidants in Pomegranate juice, and found in abundance in Pomegranate-500 may help diminish the effects of free-radicals on the effects of ageing. Current research is discovering how essential whole-food based antioxidants are to the body, and how they may help delay the signs of ageing and stress.*
SUPERIOR ALL-NATURAL
ANTIOXIDANT SOLUTION*
It's important to supplement with whole-food based antioxidants.* The bioflavanoids and polyphenols found in Pomegranate work synergistically with the antioxidants found in Pomegranate.*
WHOLE-FOOD FTW
Pomegranate-500 from LiveLong Nutrition contains an incredibly rich profile of antioxidants, polyphenols, bioflavanoids and several effectively unique compounds that have been studied for their support for heart health and oxidative status.* Given the current debate about man-made, artificial antioxidants, it makes even more sense to get your nutrition in the form of whole foods. But for many of us, the reality is, we don't have the time or the need for excessive calories that can come from eating copious amounts of fruits. Enter Pomegranate-500, which provides an impressive array of powerful compounds that could possibly delay the effects of ageing, while also supporting the cardiovascular system through its antioxidant effects.* If you are serious about your health, and nutrition is of prime importance, then Pomegranate-500 from LiveLong Nutrition is irreplaceable!