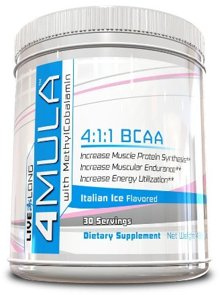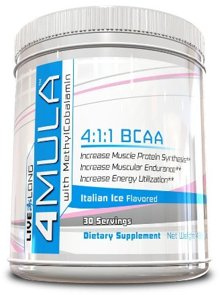 Fomulated to Crush Fatigue and Increase Strength, Endurance, and Power!*
SUPPORTS MUSCLE BUILDING*
Anyone serious about athletic performance, lean muscle mass, stubborn fat loss and exercise recovery knows that providing the body with the proper fuel during a workout is essential to success. Branched Chain Amino Acids (BCAA) have been clinically studied for decades, showing promising results in every aspect of sports nutrition. Along with all three of these important amino acids, dosed at a very specific ratio of 4:1:1 of Leucine:Isoleucine:Valine, LiveLong Nutrition took it one step further and infused 4MULA with MethylCobalamin (highly active B-12) and Citrulline Malate, a powerful compound designed to support endurance, nitric oxide, creatine storage and lactic acid removal for fatigue fighting benefits.*
FEED MUSCLE.*
FUEL FAT LOSS.*
FIGHT FATIGUE.*
FLIP THE ANABOLIC SWITCH A SIP AT A TIME
With a scientifically optimized 4:1:1 ratio of Leucine, Isoleucine and Valine, 4MULA activates a genetic switch at the cellular level in muscle tissue known as mTor (Mammalian target of Rapamycin). Nothing else will activate this unique switch that immediately sets in motion a cascade of cellular changes necessary to initiate muscle protein synthesis. While 4MULA is a perfect pre-workout solution, many of our sponsored athletes are finding that sipping on BCAA during a workout provides a much better effect on performance, recovery and reduction of fatigue. This only makes sense, because BCAA's are very easily assimilated, and go to work immediately, as you sip on it between sets. Because of the highly purified nature of amino acids, there is no effect on digestion similar to a whey protein product. Instead, all you get is immediate damage control with each sip.*
FUEL THE FAT BURNING MACHINERY
Just within the last few months, researchers completed a study investigating the effects of BCAA supplementation on fat loss. The results are going to revolutionize the way we feed our bodies during exercise. Until now, most people wanting to burn fat at the same time they feed their muscle, had to sacrifice one goal or the other. Consuming carbohydrates prior to exercise will give you an immediate boost in energy, and provide a substrate for workout performance, while at the same time compromising the amount of fat that can be burned during high intensity exercise. Those wanting to maximize fat burning will often work out fasted or low-carb, in an attempt to switch the body's energy supply over to fat. Unfortunately this can lead to premature protein breakdown to provide energy, which leads to muscle loss.* With BCAA's you can literally feed your muscle and burn fat at the same time. BCAA's possess a unique ability to supply the precursors to the Kreb's Cycle, also known as the Citric Acid cycle, or the TCA. This process occurs within fat cells in order to convert stored fat into easily usable energy. Sipping on 4MULA during your workout will help provide the body with these necessary intermediates, creating an on-demand source of energy without the need for excess sugars, or the risk of burning precious muscle tissue.
DUAL-ACTION FATIGUE FIGHTING FORMULA
4MULA would already be the perfect intraworkout drink if we just stopped at the scientifically balanced 4:1:1 ratio of BCAA's, and added our signature Italian Ice flavoring that will make your mouth water. But much like our loyal customer's attitudes, we know that leaving well enough alone is not an option. That's why we added two of the most fundamental, tried and true ingredients that deliver on the promise of fighting fatigue, increasing endurance, and maximizing power output. Methylcobalamin is the activated form of B12. Most commercially available forms of B-12 contain Cyanocobalamin. There are two important distinctions to make between the active versus inactive form. Methylcobalamin is superior due to its instant bioavailability and the addition of the methyl group (the "methyl" in Methylcobalamin). Once Methylcobalamin is ingested, it goes to work immediately, taking part in over a hundred different metabolic processes, including energy production, appetite regulation and oxygen utilization. Whereas the typical Cyanocobalamin form has to undergo several enzymatic steps before it is usable by the body. And that is also where the second benefit comes into play. In order for the B-12 to be useful to the body it must borrow a methyl group from another source in order to become methylated. Methyl groups are essential to the breakdown of homocysteine, amongst other things, and keeping methyl stores maximized is key to health and longevity. In essence, borrowing from the body's pool of methyl groups to activate B-12 leaves less of this important element to be used by the body. By including activated B-12 we have bypassed this step and reserved more methyl groups for the body to use in other critical processes.*
Citrulline Malate is actually two beneficial supplements in one. Citrulline is an amino acid which has been clinically studied for its effects on endurance, power output, maximal muscle contraction, removal of waste products such as lactic acid and ammonia, and also increases Nitric Oxide via its conversion to Arginine. Citrulline even increases PhosphoCreatine stores, meaning you get the benefits of Creatine supplementation without the bloat that comes from traditional Creatine Monohydrate use.* Citrulline Malate is the Malic acid salt of Citrulline, meaning that you also get the benefit of increased ATP formation, which means more energy, due to the beneficial effect of Malic acid on the energy cycle. Many users of Citrulline Malate notice increased pumps, quicker recovery, increased strength and endurance.* Citrulline Malate has been used for decades in Europe to treat physical fatigue and mental malaise.
THE ONLY FUEL YOU
NEED TO SUCCEED.
PERFORMANCE NUTRITION REVOLUTIONIZED
Creating 4MULA was truly a labor of love. We wanted to provide the optimal amount of Leucine for additional anabolic signaling. We wanted to crush fatigue and increase strength, endurance and power, so we added Methylcobalamin and Citrulline Malate. And last but not least, we wanted to make this drink taste so good, you wouldn't even know it was good for you. Our signature line of flavorings took as much time to create as our final ingredient list. In fact, we've even been approached by other supplement manufacturers to formulate their flavoring, so we must be doing something right! Most users prefer to sip on 4MULA throughout their workout, but taking it 15-20 minutes prior to a workout will work also. However you decide to take it, know that you're getting everything you need to succeed, whether your goal is maximal fat loss, natural muscle growth, or increased athletic performance.*