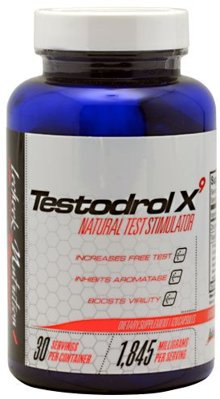 Lecheek Nutrition Testodrol X9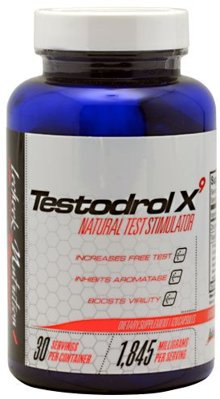 Lecheek Nutrition Testodrol X9
Increase Free Testosterone
Inhibits Aromatase
Boosts Virility
Made up of 9 of the best and most potent natural test boosters
as well as aromatase inhibitors, this product should be in your supplement stack. Increase strength, stamina and SIZE. The TestoDROL X9 Blend along with key ingredient Zinc makes for excellent natural testosterone stimulation. Think Zinc for growth. That's right, the mineral zinc is involved in virtually all phases of growth. Even more critical for bodybuilders, studies have shown that high intensity exercise stimulates excessive zinc loss. Further, diets of some athletes have been found to be low in zinc. This potential double edged sword, excess loss coupled with possible low intakes, moves zinc into our number three position. If you're not mindful of your zinc intake, your growth may be stymied.
Supplement Facts:
Serving Size: 4 Capsules
Servings Per Container: 30
Amount Per Serving:
D-Aspartic Acid, Mucuna Pruriens (std. 20% LDopa),
Horny Goat Weed (std. 10% Icariin), Indole-
3-Carbinole, Testofen, Bulbine natalensis,
3,4-Divanillyltetrahydrofuran, Zinc Methionine,
Boron Gluconate
Note: Manufacturers continually change product specifications. While we try our best to keep product descriptions up to date, they do not necessarily reflect the latest information available from the manufacturer. We are not responsible for incorrect or outdated product descriptions and/or images.

These statements have not been evaluated by the Food and Drug Administration. This product is not intended to diagnose, treat, cure, or prevent any disease.