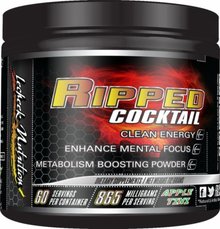 Lecheek Nutrition Ripped Cocktail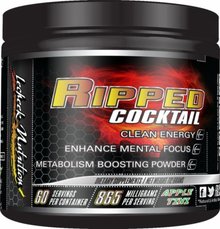 Lecheek Nutrition Ripped Cocktail
HARDCORE PRODUCTS, HARDCORE RESULTS
Lecheek Nutrition's Ripped Cocktail
The "Modern Day" Fat Burner, Energy Booster, & Mood Enhancer! Plus, it tastes AMAZING!*
Ripped Cocktail is an innovative metabolism boosting powder that uses effective ingredients in a small concentrated manner. Each scoop mixes perfect and tastes like your most coveted cocktails at your favorite beverage store. This fat burning powder is sure to be a staple in your regimen every morning and even used as a pre-workout. Ripped cocktail has everyone raging from the effects to the taste and mix-ability. Get it now and get shredded!!!!
Key Features
Clean & Euphoric Energy!*
Enhance Mental Focus*
Promote Metabolism Boosting!*

Lecheek Nutrition's Ripped Cocktail contains advanced ingredients to not only promote serious energy but enhances performance and burns fat, all at the same time.* Ripped Cocktail is an athlete's performance supplement that specifically designed with the athlete in mind, delivering effective ingredients that you will feel and see results in professional performance. This is an all in one performance supplement to get you shredded while optimizing performance in the gym or any training grounds. Lecheek did their homework and engineered Ripped Cocktail to give you quality ingredients for maximum results.
HARDCORE PRODUCTS, HARDCORE RESULTS