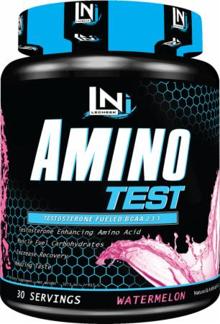 Lecheek Nutrition Amino Test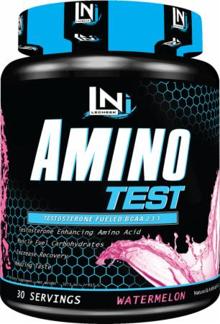 Lecheek Nutrition Amino Test
Testosterone Fueled
2:2:1 BCAA
2:1:1 BCAA RATIO
Amino Test uses a 2:1:1 BCAA ratio of L-Leucine, L-Isoleucine, L-Valine.
TESTOSTERONE
A full serving of D-Aspartic Acid in every scoop will help raise your natural test and break barriers in your workouts.*
MUSCLE FUELED CARBOHYDRATES
Amino Test uses 20 grams of Dextrose to refuel Glycogen storage.
FLAVOR
Available in three flavors (Grape, Apple, Watermelon) with many more to come, we pride ourselves in having the best flavors in the industry.
What is Amino Test?
Amino Test is our newest BCAA formula. It's a 2:1:1 Ratio formula but unlike other BCAA's we added 20g of Carbs and Testosterone Amplifier. Two of the most important things when training are Glycogen stores and Elevated Test levels. You get both with Amino Test!
How Do I take Amino Test?
Amino Test can be taken during training, athletic event, or as a post-workout. We recommend using during intense training sessions.
Can I add Amino Test with my pre-workout?
Of course you can! Amino Test can be combined with any pre-workout currently on the market. You will get an incredible amount of Amino Acids, Carbs, and Electrolytes added to your current pre-workout.
Can someone take Amino Test with other Lecheek products?
Yes, Amino Test can be stacked with our SpeedX3 and PumpX3. However it has been specifically formulated to be stacked with our SpeedX3 Test.