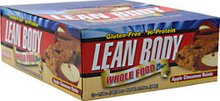 Labrada Lean Body Whole Food Bars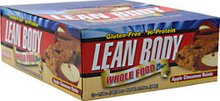 Labrada Lean Body Whole Food Bars
Lean Body Whole Food Bars Contain:
13g of Protein
No Gluten
No Trans Fat
No Hydrogenated Oil
No Collagen
No Sugar Alcohols
No Candy Chocolate Coating
No Junk!
Lean Body Whole Food Bar is the new 100% All-Natural, Gluten-Free protein bar from Labrada Nutrition. Lean Body Whole Food Bar tastes great, is low in fat and sugar, and contains only natural, wholesome ingredients.
Lean Body Whole Food Bar contains no gluten, no artificial sweeteners, no artificial colors, no sugar alcohols, ...only the good stuff, no junk! They're perfect for snacking, after your workout, or any time of the day that you want to satisfy a craving with a healthy food!