Quick Links to Best Prices Price History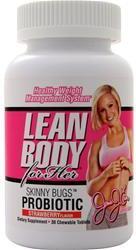 Labrada Jamie Eason Signature Series Skinny Bugs
Lean Body For her
SKINNY BUGS
"As a former champion figure competitor and creator of the LiveFit Trainer, I have helped hundreds of thousands of women reach their fitness goals. Healthy, natural nutrition plays a major part in whether you are successful getting leaner, healthier and more toned. That's why I teamed up with Labrada Nutrition, the most trusted name in sports nutrition, to develop my signature line of Lean Body for Her Natural nutritional supplements for women.
I know what you're probably thinking: 'Why bacteria, of all things? Isn't this site supposed to be all about fitness and wellness?' But, I'm not talking about the mystery organisms that appear on that forgotten food at the back of your fridge. I'm talking about the healthy bacteria that your digestive system needs to flourish and even promote weight loss! These healthy bacteria – or probiotics – are at the heart of the NEW Lean Body for Her Skinny Bugs Probiotic Formula. And, just like every other product in my Signature Series, Skinny Bugs can help make a difference in the way you look and feel!"* - Jamie Eason
What makes Jamie's Probiotic the best?
Daily Probiotic Supplement
Full Spectrum Formula with over 57 billion live cultures
Helps replenish the body's good gut bacteria*
Helps support digestive health*
Helps naturally support immune health. (most of which is found in the digestive tract)*
Contains probiotic strains found in clinical trials to benefit weight loss.*
According to the World Health Organization (WHO), probiotics are "live microorganisms that, when administered in adequate amounts, confer a health benefit on the host." They've been shown to help balance out the "friendly" bacteria in your stomach, improve intestinal and digestive function, and play a role in a wide range of other health benefits – including weight reduction.*
While probiotics can be found in some fermented foods, such as yogurt, Skinny Bugs makes it easy and convenient to guarantee adequate daily intake. They also remove any guess work when it comes to which healthy bacteria strains should be taken, and when.
Research suggests that people have different levels of intestinal bacteria. Even people considered "skinny" – or having a favorable scale weight – may still lack an ideal bacteria balance in their systems.
When the good bacteria are outnumbered by the bad, feelings of bloating and fatigue can set in, along with increased sugar cravings. As you can imagine, these scenarios can easily derail a person's will-power to hit the gym or bypass the candy aisle! By taking probiotics, however, you can help restore the healthy balance of good and bad bacteria in your system, ultimately creating a better foundation for weight loss.*
Q
I've never had digestive issues before. Should I still take SKINNY BUGS?
A
Yes, you can definitely still benefit from taking SKINNY BUGS.* Think of it as being proactive about your overall health and wellness.* As you go about your normal day, SKINNY BUGS will help replenish your gut's good bacteria and keep your digestive and immune systems running at their best.* This, in turn, will have a positive effect on other aspects of your health. As an added bonus, SKINNY BUGS is a dietary supplement designed to help you maximize your levels of favorable gut bacteria.* If any of these benefits appeal to you, we invite you to try Skinny Bugs for yourself and see the difference it can make on how you look and feel.*
Q
What can cause an unequal balance of good and bad bacteria in my system?
A
A number of factors can shift this balance – things like poor eating habits, lack of sleep, and antibiotic use. Some people experience some or all of these factors on a daily basis! By supplementing with SKINNY BUGS, you can help restore the important bacteria balance in your system while indirectly optimizing and supporting fat loss.*
Q
How can I be sure that SKINNY BUGS will work?
A
LABRADA NUTRITION is known for sourcing pure, natural, and highly effective ingredients for all of its products, and SKINNY BUGS is no exception. You can also trust the science behind SKINNY BUGS and the third-party clinical studies that support its key ingredients.* For example, SKINNY BUGS contains the same probiotic strains found in clinical trials to benefit weight loss.*
Q
Is it true I only need to take one SKINNY BUGS tablet a day?
A
Absolutely! SKINNY BUGS is a full-spectrum formula containing over 57 billion CFU per gram! So, if you're already using other products from the Lean Body for Her Jamie Eason Signature Series, adding SKINNY BUGS to the mix will be both beneficial and easy.
Q
Does SKINNY BUGS ever need to be refrigerated?
A
No, however we do suggest that you keep SKINNY BUGS in a cool, dry climate as instructed on the label.
"Jamie Eason is a fitness icon that is loved and respected by legions of female fans and followers. Jamie is passionate about helping women get into shape and mirrors our company's values. I cannot think of a better ambassador that we'd want to partner with for our new line of women's natural nutritional supplements. Jamie's products are natural, great tasting and deliver results."