Quick Links to Best Prices Price History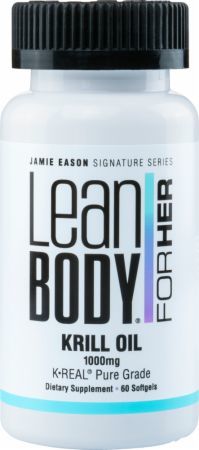 Labrada Jamie Eason Signature Series Krill Oil
Jamie Eason Signature Series
KREAL Pure Grade KRILL OIL
"As a former champion figure competitor and creator of the LiveFit Trainer, I have helped hundreds of thousands of women reach their fitness goals. Healthy, natural nutrition plays a major part in whether you are successful getting leaner, healthier and more toned. That's why I teamed up with Labrada Nutrition, the most trusted name in sports nutrition, to develop my signature line of Natural nutritional supplements for women.
EFA's are an essential part of your diet and we tend to get plenty of omega-6 fatty acids from sources like eggs, poultry, pumpkins seeds, soybean oil, sunflower oil, etc, but not enough omega-3's, like you find in fish such as salmon. However, very few people want to eat fish every single day, and with FDA warnings of mercury, PCB's and heavy metals, the quality of our fish is sometimes questionable.
With the Krill Oil as created. We knew that a premium Krill oil supplement was high on the priority list of women interested in optimal health." – Jamie Eason
What makes Jamie's KRILL OIL the best?
Assists in Natural Fat Loss*
Natural support for a healthy cardiovascular system*
Bolsters immunity*
Supports healthy brain function and nervous system*
Provides joint support*
Helps to manage inflammation related to exercise*
Purified to be free of toxins and heavy metals
What is Krill Oil and why choose krill over fish oil?
Krill are small semi-translucent crustaceans that live in the depths of the ocean. They congregate in dense masses and are a source of food for marine life such as whales, seals, and fish. Krill are an easily renewable food source, perfect for sustaining marine life and harvesting for human consumption.
With Jamie Eason's Signature Series Krill Oil, you get a superior product that is pollutant free, derived from a renewable resource, resistant to oxidation, offers protection from damaging free radicals, has better absorption than fish oil and won't leave a fishy aftertaste.
A powerful 1-2-3 punch!
So why are people so interested in krill oil? Krill's nutrientrich oil is comprised of three main components, which have been shown to support healthy body functions:
Phospholipids of Omega-3 (delivers EPA & DHA directly to cells)
Triglycerides of Omega-3 (converts ALA to EPA & DHA)
Astaxanthin (a highly potent antioxidant)
The krill oil used in Krill Oil is KREAL made from Real Antarctic krill, a species of krill found in the Antarctic waters of the Southern Ocean.It's a pure, potent formula.
Q
Is it true that essential fatty acids are not produced by the body?
A
Yes, it's true. Since our bodies are incapable of producing them, we must consume them regularly in our diet.
When a diet is poor in EFA's, health problems can occur.
That's why a supplement like Lean Body for Her Krill Oilis so important. You get all of the benefits of fish oil plus more in just two tiny capsules.
Q
Are there any other supplement "staples" that should bein my diet?
A
If you like this product, we encourage you to check out the rest of the new Jamie Eason signature line of Labrada Jamie Eason Signature Series supplements.
Labrada Jamie Eason Signature Series Whey Protein Isolate as well as the Labrada Jamie Eason Signature Series Food-Based Multi-Vitamin are great for supporting a healthy diet and should be on every woman's shopping list.
"Jamie Eason is a fitness icon that is loved and respected by legions of female fans and followers. Jamie is passionate about helping women get into shape and mirrors our company's values. I cannot think of a better ambassador that we'd want to partner with for our new line of women's natural nutritional supplements. Jamie's products are natural, great tasting and deliver results."