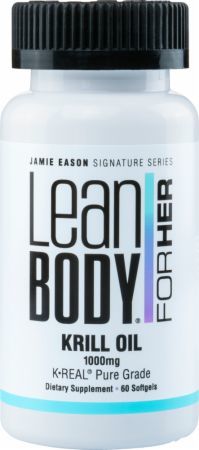 Labrada Jamie Eason Signature Series Krill Oil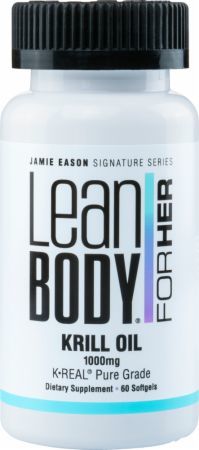 Labrada Jamie Eason Signature Series Krill Oil
KRILL OIL
"As a fitness cover model, creator of the LiveFit trainer, and mom of two, I know the importance of healthy, natural nutrition. I've had the privilege of helping thousands of men and women reach their fitness goals. Now, I have teamed-up with Labrada Nutrition to develop my signature line of Lean Body for Her nutritional supplements for women.
Poultry, pumpkins seeds, soybean oil, sunflower oil, etc, but not enough omega-3's, like you find in fish such as salmon. However, very few people want to eat fish every single day, and with FDA warnings of mercury, PCB's and heavy metals, the quality of our fish is sometimes questionable.
That's why when Jamie Eason's new Lean Body for Her Krill Oil as created. We knew that a premium Krill oil supplement was high on the priority list of women interested in optimal health." – Jamie Eason
What is Lean Body For Her Krill Oil?
• Natural support for a healthy cardiovascular system*
• Bolsters immunity*
• Supports healthy brain function and nervous system*
• Provides joint support*
• Helps to Manage a Healthy Inflammation Response from Exercise*
Lean Body For Her Krill Oil FAQs
Is it true that essential fatty acids are not produced by the body?
Yes, it's true. Since our bodies are incapable of producing them, we must consume them regularly in our diet.
When a diet is poor in EFA's, health problems can occur.
That's why a supplement like Lean Body for Her Krill Oil is so important. You get all of the benefits of fish oil plus more in just two tiny capsules.
Are there any other supplement "staples" that should be in my diet?
If you like this product, we encourage you to check out the rest of the new Jamie Eason signature line of Lean Body for Her women's supplements.
Lean Body for Her Whey Protein Isolate as well as the Lean Body for Her Food-Based Multi-Vitamin are great for supporting a healthy diet and should be on every woman's shopping list.
TRUTH IN LABELING
For over 20 years, Labrada has performed independent third-party product testing at analytical laboratories. With Labrada, you can be sure that your product meets label claim.
"If it's on the Label,
it's in the bottle!"