Warning: This product is not currently available at any store.
Click the button above and PricePlow will email you when the first store has it in stock!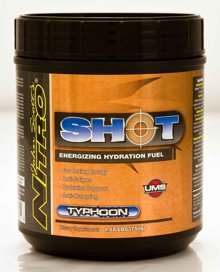 SHOT is a refreshing low calorie drink designed
to support hydration and boost energy levels for superior athletic performance.* Shot's targeted nutrients work synergistically as a shockingly powerful pre-workout supplement that is ideal for hot weather conditions.
Shot's targeted nutrients work synergistically:
Energy Amplification System / Anti-Fatigue Agents*:
This scientifically-unified, tri-phase system is formulated to boost athletic performance by extending endurance.*
Targeted neuro-stimulants quickly amp intensity and reduce perceived fatigue by promoting the production of the powerful neurotransmitters dopamine, epinephrine and norepinephrine.*
Cutting edge, exotic herbs help support focus, elevate mood, support healthy cells against cellular damage and increase cellular energy production.* Additional pH buffers help reduce lactic acid build-up and minimize unwanted muscle burn.*
A proprietary carbohydrate blend acts to rapidly reload vital muscle glycogen stores and preserve lean muscle.*
Hydration Enhancers / Anti-Cramping Agents*:
Ideally balanced minerals and electrolytes for fast replenishment of fluids, which may help support against cramping and promotes hydration.* Experts agree that staying hydrated is the #1 concern for all athletes. Even minor dehydration can cause a drastic reduction in athletic performance and lead to serious health risks.*
Benefits:
Fast-Acting Energy*
Anti-Fatigue*
Hydration Support*