Quick Links to Our Prices
How does this work and how do stores get listed? See our disclosure below to learn more. Price History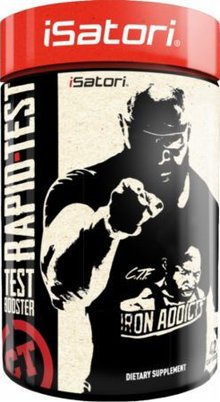 iSatori CT Fletcher Rapid-Test
NEW RAPID-TEST is for serious Iron Addicts who want to maximize testosterone to dominate every workout, set, and rep.
Subjects Increased Testosterone in 10 Hours*
Full Research Backed Dosing
Exclusive Rapid Release Tablet Technology*
Sidewalk Crack'n KING OF THE GYM!
Testosterone is king when it comes to strength, building muscle, and cranking up your mojo. Many would say it's the true measure of natural anabolic hormones, and to drive hard toward your goals, you need to maximize your test levels … and fast. RAPID-TEST kicks aside average test boosters that may take weeks or even months to take effect with a formula that could push your test levels in just 10 hours flat.* Yeah, you heard that right … 10 hours.
The lead ingredient in RAPID-TEST (TESTOSURGE) has been suggested in a human clinical trial to support total testosterone and bioavailable testosterone in just 10 hours!* The exact amount of TESTOSURGE used in the study is found in RAPID-TEST. Back this up with time-tested ingredients like Tribulus terretris, Calcium D-glucarate, Boron, Zinc, and a supporting cast of vitamins, and RAPID-TEST becomes a necessity in your supplement stack.
Each Powerful Serving of RAPID-TEST Delivers:
600 mg TESTOSURGE. When you want to crank up your test levels fast, TESTOSURGE gets it done. But not just any amount of TESTOSURGE will work. In a recent human clinical study, subjects taking the exact amount of TESTOSURGE found in RAPID-TEST experienced an increase in total testosterone and bioavailable testosterone vs. those who took the placebo.* With continued use over 8 weeks, subject also experienced a significant reduction in body fat compared to those using a placebo (Poole, et al. JISSN (2010) 6.1: 12.).* Add this to the fact that TESTOSURGE may help support a healthy estrogen balance when used daily at the dose found in RAPID-TEST and you have an absolute powerhouse lead ingredient.*
500 mg TribuDrive Tribulus terrestris is specific to iSatori and standardized to 40% saponins. According to recent clinical research, some of the active sterols in the Tribulus terrestris plant are indicated to maintain natural testosterone levels by means of supporting luteinizing hormone (LH) production.* LH regulates testosterone production through the stimulation of the leydig cells in the testicles, and high levels of LH coincide with free or bioavailable testosterone levels.*
Calcium
D-glucarate
25 mg Calcium D-glucarate. An emerging and growing body of research on Calcium D-Glutarate is showing estrogen-blocking properties via the pathway of inhibiting β-glucuronidase with D-glucaric acid and derivatives such as Calcium D-glucarate.
Zinc
30 mg Zinc (as monomethionine and aspartate). Marginal deficiencies in zinc have been correlated to lower than normal plasma testosterone levels. Supplementation with zinc has been suggested modulate serum testosterone levels in men with continued use.*
Boron
10 mg Boron from Boron citrate. This amount of scientifically studied boron has been suggested to support free testosterone while promoting a healthy estradiol balance.*
Vitamins
Vitamin Support — Vitamin D: 400 IU, Vitamin B6: 10.5 mg, Vitamin B12: 20 mcg. Vitamin D in not just for strong bone health — emerging research has shown adequate levels of Vitamin D to correlate to normal ranges of testosterone. Vitamin B6 is a precursor for multiple androgens (male sex hormones, including testosterone),* and Vitamin B6 is the perfect support ingredient to allow the release of energy to the body to support the overall efficacy of the formula.
Effects of glycosides based fenugreek seed extract (TESTOSURGE) on serum testosterone levels of healthy sedentary male subjects: an exploratory double blind, placebo controlled, crossover study:
Effects of treatments on change in levels from baseline (between the group effects.) (A) mFT) (B) cFT) (C) TT and (D) BT. The data for each parameter was presented as mean ± SD and analyzed by unpaired "t" test (comparisons between the treatments at corresponding time)* P
Mokashi et al. Asian Journal of Pharmaceutical and Clinical Research. Vol 7, Suppl 2, 2014