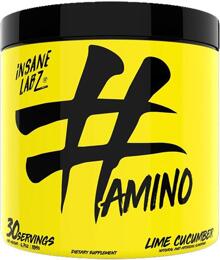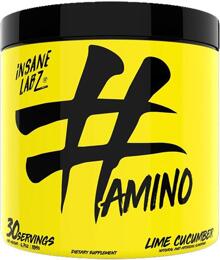 Clean Amino Acid For Bodybuilding - Insane Labz #Amino
Why do bodybuilders take amino acids? Because amino acids make up proteins, and proteins make up muscles! Amino Acids are the reason why we have energy, fat loss, and so much more! But when you work out, your body uses up the amino acids and then it's harder for your body to do stuff. Amino Acids can help with recovery and building muscle. Feed your muscles! Introducing Insane Labz #Amino!
Insane Labz #Amino Benefits
Helps To Build Muscle
Reduces Muscle Soreness
Reduces Fatigue
Improve Performance
Improves Recovery
Increases Strength
Increases Energy
What is Insane Labz #Amino?
#Amino from Insane Labz is an amino acid supplement that has a fully disclosed label so you know all you are getting! This new line of # Supplements all have labels that you can see, read, and understand! In this case, Insane Labz #Amino has your BCAAs, L-Leucine, L-Isoleucine, and L-Valine. If you are wanting to improve your performance in the gym, have less recovery time, and help your muscles with soreness and fatigue, then Insane Labz #Amino is what you need!
Insane Labz #Amino Flavors
Lime Cucumber
Rainbow Bomb
Water Bomb
How Does Insane Labz #Amino Work?
Insane Labz #Amino has a simple blend of 5 ingredients to help your recovery become as smooth as possible!
L-Leucine, L-Isoleucine, and L-Valine are the 3 main ingredients. These are the BCAAs, or branched chain amino acids that can help with building muscle and improve your performance in the gym! These BCAAs are essential, meaning we cannot make them in our body. We have to get them from outside sources. It's so important to make sure we have plenty of these so they can work to help build muscle and even lose fat to reducing fatigue!
Insane Labz then added Sarcosine! Sarcosine has also been called N-methylglycine, and comes from Glycine. This is naturally found in your body and can help with cognitive properties.
How Do I Take Insane Labz #Amino?
Mix 1/2 a serving in 8-10 oz of water during workout or after.
For advanced users, mis 1 serving with 12-14 oz of water.
Drink at least ten 8oz glasses of water per day.
Insane Labz #Amino Ingredients
Serving Size: 1 Scoop
Servings Per Container: 30
Amount Per Serving
L-Leucine (Instantized): 2g
L-Isoleucine: 1g
L-Valine: 1g
Sarcosine (N-Methylglycine): 500mg
OXYGOLD (Fulvic Acid): 50mg
Other Ingredients: Natural & Artificial Flavoring, Citric ACid, Sodium Chloride, Malic ACid, Silica, Sucralose, FD&C Yellow #5, FD&C Blue #1
Warnings & Side Effects
Not intended for use by persons under 18. Do not exceed recommended dosage per day, doing so will not improve results and will result in adverse health effects. Do not consume other sources of caffeine including but not limited to coffee, tea, soda, and medications containing phenylephrine or caffeine. Not to be used by pregnant or nursing women or person(s) who have a pre-existing health condition including but not limited to: high or low blood pressure, cardiac arrhythmia, stroke, heart/kidney/liver/thyroid disease, seizure disorder, psychiatric issues, diabetes, stimulant sensitivity or allergies, prostate inflammation, or while taking any other medication (such as, but not limited to: MAO-inhibitor or SSRI's), antidepressants, aspirins, nonsteroidal anti-inflammatory drugs or products containing phenylephrine, ephedrine, pseudoephedrine or other stimulants. If you experience rapid heartbeat, dizziness, severe headache, shortness of breath, or similar symptoms; discontinue use immediately and call a health care professional. Store in a cool dry place. Do not expose to excessive heat and moisture. KEEP OUT OF REACH OF CHILDREN.
References
Wolfe RR. Branched-chain amino acids and muscle protein synthesis in humans: myth or reality?. J Int Soc Sports Nutr. 2017;14:30. Published 2017 Aug 22. doi:10.1186/s12970-017-0184-9
https://www.ncbi.nlm.nih.gov/pmc/articles/PMC5568273/
Norton LE1, Layman DK. - Leucine regulates translation initiation of protein synthesis in skeletal muscle after exercise.- J Nutr. 2006 Feb;136(2):533S-537S.
https://www.ncbi.nlm.nih.gov/pubmed/16424142
Armstrong RB.- Mechanisms of exercise-induced delayed onset muscular soreness: a brief review. - Med Sci Sports Exerc. 1984 Dec;16(6):529-38.
https://www.ncbi.nlm.nih.gov/pubmed/6392811