Quick Links to Our Prices Price History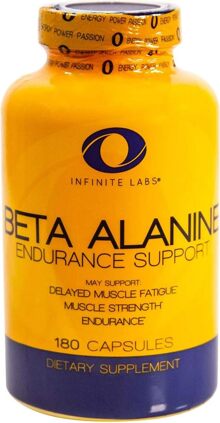 Infinite Labs Beta Alanine
Carnosyn Beta Alanine:is a bio-friendly form of Beta Alanine, which is a naturally occurring beta amino acid which supports thesynthesis of muscle carnosine levels in the body. Muscle carnosine has been shown to act as a buffering agentthat helps to prevent muscular fatigue during exercise.*

When you go to the gym, you expect great things from your body, but sometimes your body has a different agenda.Beta Alanine in the form of Carnosyn works to fight fatigue, promoting a delay in lactic acid build up in the muscletissue.* If you are having trouble pushing through the intensity of your exercises… *
DONT WORRY BECAUSE
INFINITE ONE
IS HERE TO HELP!
With Infinite ONE, you now have the ability to add Carnosyn Beta Alanine to any existing supplementor even make your own endurance complex product.*

Stacking Infinite ONE
The Basics:
AAKG
Electrolyte Complex
Taurine
Add To:
Infinite Force by Infinite Labs for an amazing Intra-Workout.*
Remember that all Infinite ONE products have a recommended dosage that should not be exceededwhen mixing with other supplements or making your own.*
NO FILLERS. NO FLAVORING.
KNOW EXACTLY WHAT YOU'RE GETTING.
IT'S TIME TO EVOLVE