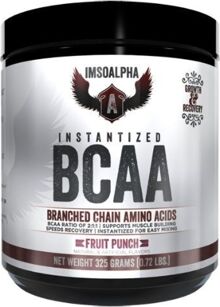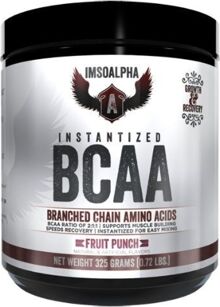 ImSoAlpha iX3 BCAA with Glutamine | Now on sale at
50 SERVINGS
GREAT TASTING, FRUIT PUNCH FLAVOR
PERFECT 2:1:1 RATIO
2G L-LEUCINE, 1G L-ISOLEUCINE, 1 G L-VALINE
HELPS WITH MUSCLE REPAIR & GROWTH POST EXERCISE**
CAN HELP REDUCE SEROTONIN LEVELS, DECREASING FATIGUE DURING EXERCISE**
STIMULATES PROTEIN SYNTHESIS AND AIDS IN PREVENTING MUSCLE LOSS**
RAPIDLY ABSORBED INTO THE BLOODSTREAM
HELPS AID IN THE LOSS OF VISCERAL FAT**
ADDED GLUTAMINE TO INCREASE IMMUNE FUNCTION AND PROMOTE MUSCLE GLYCOGEN SYNTHESIS**
How Do BCAAs and Glutamine Help People Who Weight Train, Strength Train or Want to Keep Body Fat Down?
BCAAs are Branched Chain Amino Acids that are commonly consumed in the form of supplements. A large number of bodybuilders and fitness conscious people take BCAAs to lessen body fat and build muscle mass.
What are BCAAs?
BCAAs are actually Amino Acids that are the major components of muscle building proteins. The three BCAAs are leucine, isoleucine, and valine. They are in the category of "essential amino acids." This means that our body cannot make these aminos on it's own and we must get them from an outside source. We require an adequate amount of amino acids in order to maintain our muscle mass and people who exercise on a regular basis can find it difficult to retain a stable quantity of amino acids in their body. This is because exercise burns amino acids at a rapid pace and sometimes will even burn muscle.
Importance of BCAA Supplement
When you exercise, you use excess body fat to provide you with the required energy. However, when your body is lean and you are trying to attain a more muscular build, the body will reduce your muscle mass in order to get the energy required for the workout. Thus, the more you exercise; the more muscle you can possibly lose.
The reduction of muscle mass during fitness training results in a release of amino acids. Thus, to make up for the loss and to provide your body with the sufficient amount it needs to retain its muscular build, you will need to supplement with BCAAs.
As muscle breakdown occurs during your exercising routine, it is necessary to have adequate amount of amino acids before and after the muscle building or fitness training session.
Glutamine and Its Significance
Glutamine is one of the most important amino acids found in our body and nearly 60 percent of our body muscle mass is made from it. When we exercise, glutamine is the chief amino acid that is burned when muscle breakdown occurs. Thus, the glutamine levels in your body are reduced and as glutamine is important not only for muscle building but also for strength, recovery and overall stamina of the body; a decrease in its level can leave you lethargic after a workout.
In a nutshell, every individual who is involved in a rigorous body fitness routine needs to have a stable amount of amino acids and glutamine in their body.
To ensure that your body retains adequate amounts of BCAAs and glutamine during your fitness training, the best option is to keep up an external consumption of these amino acids through the use of a BCAA supplement.