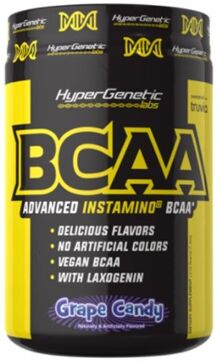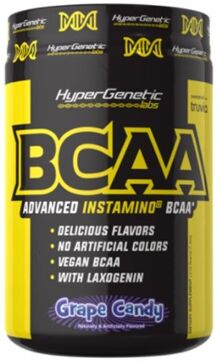 While Supplies Last!
Advanced Instamino BCAA! Delicious Flavors With No Artificial Colors! Vegan BCAA With Laxogenin!
5 grams of Vegan InstaAmino BCAAs Per Serving!
Supports Lean Mass Growth & Recovery!
Decreases Post Exercise Soreness!
Improves Glucose Uptake & Insulin Sensitivity!
Mixes Easy With No Residue/Delicious Flavors!
30 Servings Per Container
BCAA is a cutting-edge formula combining the best amino acids for muscle growth with anabolic botanicals to supercharge your gains! 5 grams of fermented, vegan-friendly, branched-chain amino acids at a 2:1:1 ratio are packed into every scoop, so that each amino acid is dosed properly to work synergistically for maximal growth. Additionally, the laxogenin is a plant-based molecule with a similar chemical structure to synthetic male hormones, and provides profound muscle benefits.
Branched-chain amino acids: signals for muscle growth by maximizing muscle protein synthesis

Laxogenin: a proven benefits for muscle growth.

Electrolytes: minerals that are lost in sweat and are essential for muscular contraction and neurotransmission

After a muscle-tearing workout, recovery is mandatory and requires the right fuel. Not only will BCAA provide the electrolytes, hydration, and amino acids that need to be replenished, but it will create an anabolic environment for optimal muscular growth. Maximize your gains with the plant-based performance of BCAA!
Q: How do I take BCAA?
A: Take 1 scoop (7g) with 10-12 ounces of water one to two times daily.
Q: What are BCAA's?
A: BCAA's are branched-chain amino acids: leucine, isoleucine, and valine. Amino acids are the building blocks of protein, which make up muscle tissue. Leucine, isoleucine, and valine are 3 of the 9 essential amino acids, meaning the body cannot synthesize them and they must come from the diet.
Q: Is laxogenin a hormone? Will it affect my hormones?
A: Though laxogenin works in a very different fashion than hormones and evidence suggests that it haslittle to no effect on androgenic hormones and their receptors.
Q: When should I take BCAA?
A: BCAA can be taken pre, intra, or post workout for a boost in anabolism and muscle protein synthesis. They can also be taken between meals as a way to spike muscle protein synthesis multiple times per day.
Note: Manufacturers continually change product specifications. While we try our best to keep product descriptions up to date, they do not necessarily reflect the latest information available from the manufacturer. We are not responsible for incorrect or outdated product descriptions and/or images.