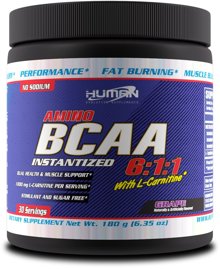 Human Evolution Supplements BCAA 6:1:1 with L-Carnitine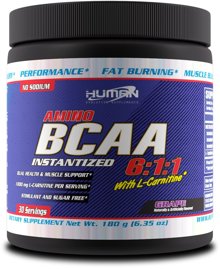 Human Evolution Supplements BCAA 6:1:1 with L-Carnitine
BREAK A SWEAT with 1000mg L-CARNITINE
RECOVERY THAT BURNS FAT*
#OverRideYourLimit
DUAL HEALTH & MUSCLE SUPPORT*
STIMULANT & SUGAR FREE*
Recovery that makes you Sweat.*
Promotes:
Fat loss*
Lean muscle gains*
Heart health*
Healthy immune system*
What makes Human Evolution BCAA 6:1:1 with 1,000mg L-Carnitine different than the 100's of other formulas on the market? A formulated 6:1:1 ratio with an additional 3,000mg L-Leucine per serving. This allows the body to improve the potential for protein synthesis in muscle.
Our fantastic combination of BCAA's and 1,000mg L-Carnitine helps stave off fat in problematic areas. One of the key factors of L-Carnitine is it's ability to help shuttle long-chain fatty acids such as triglycerides into mitochondria where they may be oxidized and turned into energy.
L-Carnitine also might improve the ability to reduce fatigue and serve as an appetite suppressant.