Quick Links to Best Prices Price History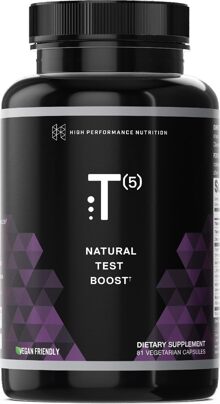 High Performance Nutrition T(5)
T(5) - Test Optimization
The future of natural testosterone optimization has arrived! It's called T(5), and its the only product you need to PASS THE TEST. HPN is a market leader in the world of ultra premium sports nutrition products. We bring to market only best-in-class supplements featuring trademarked and proven ingredients with NO COMPROMISES made in terms of quality, safety, or effectiveness. With a pedigree like that, T(5)'s biggest competition was bound to be living up to its own reputation as an HPN product. We know we had to BRING IT with T(5), so the first thing we did was evaluate the rest of the natural testosterone booster market. Don't get us wrong, there are other decent products out there, but NONE that could hold up to our standards.*
Natural or just not banned yet?
The first concern that we had was the safety of our supplement. Many products feature borderline/gray area pro-hormonal ingredients with no safety data, that are later banned and recalled. Many companies know what they are doing when creating products with these ingredients, but they do so anyway at the risk of causing unwanted side effects and possible long-term damage to the end users of their supplements. To make sure we had a formula that was 100% safe and could be tested free of banned substances, we consulted with the BSCG in our ingredient selection process. After carefully reviewing the data on hundreds of possible ingredients, we then formulated T(5).*
Does this stuff actually work?
Ok, so T(5) is safe; but does it work? The answer is YES!*
T(5) is formulated with FULL DOSES of 5 All-Natural, Safe, and PROVEN nutraceutical ingredients. Most companies use 1 or 2 of these types of ingredients, and fill the majority of the product with a bunch of non-sense that won't build anything other than your credit card reward points.*
The 5 trademarked and proven ingredients in T(5) are:
LJ100: LJ100 is a well research patented extract of the Eurycoma Longifolia root containing 40% Glyco Saponins and 22% bioactive Eurypeptide compounds. these two compounds together are responsible for the effects of the ingredient. Clinical Test Results demonstrated that LJ100 promotes optimal testosterone function by naturally inhibiting the sex hormone binding globulin, thereby releasing the free testosterone in the body, and supports healthy functions of testosterone responsive tissues in men.*
Testofen: Testofen is a trademarked and clinically proven extract of Fenugreek. What sets Testofen apart from any other Fenugreek extract is its standardization of a group of saponin glycosides named "Fenuside".*
AstraGin: AstraGin is a 100% natural ingredient that is a careful blend of two highly fractionated plant extracts, Panax notoginseng and Astragalus membranecous. Ginseng and astragalus are powerful, well respected herbs in traditional medicine. AstraGin MAXIMIZES everything you do nutritionally and in the gym/on the field by driving more amino acids and glycogen into your muscles. It is a key part of of maximizing our lean muscle growth, strength increase, muscle fullness, and recovery!*
Opti-Zinc: Zinc is known to be a crucial part of the testosterone production process in the male body. In fact… Many of the ZMA products that people claim great results from drive their benefit SOLELY from the fact that the "Z" in ZMA stand for Zinc, and by adding enough Zinc into their diets via their ZMA supplement, many guys will feel a difference in their testosterone production! We choose to use Opti-Zinc in T(5) rather than just use any old generic (and cheap) Zinc, because it is the PUREST, SAFEST, and MOST PROVEN form of Zinc available!*
BioPerine: BioPerine is a 93% Piperine extract that has been clinically proven to increase the absorption and bioavailability of other nutrients. BioPerine increases nutrient bioavailability by increasing the blood supply to the GI tract and increasing active nutrient transport.With so many amazing ingredients in T(5), we HAD to include BioPerine to MAKE SURE that you absorb EVERY milligram!*