Quick Links to Our Prices Price History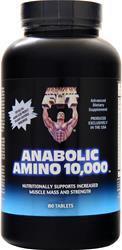 Healthy 'N Fit Anabolic Amino 10,000
Anabolic Amino 10,000 contains free form and peptide bond amino acids
, "L-" configuration in correct proportions to promote anabolic activity.*
Anabolic Amino 10,000 is formulated to increase muscle mass and strength in combination with intense training.* This product can aid in promoting protein synthesis and PNB (Positive Nitrogen Balance).* Important - Some products available are poorly hydrolyzed casein; containing merely protein powder and little amino acid content. This product is independently tested and assayed to indicate the proportion of Free Form Amino Acids and DI and TRI Peptide Bond Amino Acids.* It has tested to have a combination of amino acids which independent research has suggested to be optimum.*
We add no additional L-Lysine or L-Ornithine. This would create an imbalance of amino acids which can reduce utilization of amino acids. This product does yield the correct proportion of L-Lysine.* L-Ornithine is a very beneficial amino acid but should be taken separately.
More importantly, it is a pancreatic digest of whey (lactalbumin) and egg albumen - a high quality and effective free form and peptide bond amino acid source.*
Total tablet weight with natural excipients per 6 tablets approximately 15000mgs. Total amino acid yield per 6 tablets - over 10000mgs. It takes approximately 15000mgs. per 6 tablets to yield 10000mgs. of amino acids. Natural inactive excipients in the tablet should not be counted in the tablet weight. This is a natural product - appearance may vary.