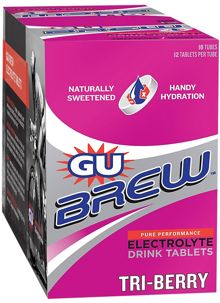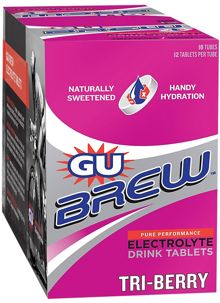 GU Electrolyte Brew is water's new best friend. The fact is, when you work out you sweat more than just water. So when you drink you gotta have a special Brew with the right amounts of sodium, potassium and carbohydrates to bring your system back into balance. Used consistently, GU Brew will help you perform better and go longer.
What's in it?
Carbohydrate Blend - The mix of maltodextrin and fructose found in GU Electrolyte Brew serves a dual role: it supplies working muscles with easily available fuel, and it speeds up the rehydration process by stimulating the absorption of both electrolytes and fluid in the stomach. Research shows that the featured 2:1 ratio of complex to simple carbohydrates will improve endurance performance by increasing the rates of exogenous carbohydrate absorption.
Sodium and Potassium - Electrolytes facilitate the neuromuscular system's ability to work effectively so that your muscles keep doing what your brain tells them to do. Simply put, electrolytes help to avoid cramping. GU Electrolyte Brew packs 325mg of sodium and 50mg of potassium into one 21 oz. serving.
All-natural flavor and color - Studies show that taste, aroma, and color will most likely determine whether or not you keep drinking. Too much flavor or sweetness—often found in artificially flavored drinks—will cause you to stop hydrating after a while.
How's it different?
Unlike a lot of the sport drinks available GU Electrolyte Brew has a light, mildly sweet flavor that doesnt overwhelm the athlete during activity. Adding performance to taste, the optimized 2:1 complex to simple carbohydrate ratio allows athletes to keep going for hour after hour of activity.
How do I use it?
For optimal results, always drink 20-30 oz. of GU Electrolyte Brew per hour during training or racing. Proper usage will help to replenish fluid and carbohydrate replenishment during activity.