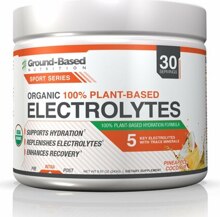 Ground-Based Nutrition Organic Electrolytes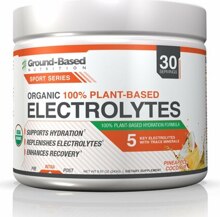 Ground-Based Nutrition Organic Electrolytes
The World's 1st USDA Certified Organic 100% Plant-Based Hydration Formula

Perfect mix of plant-based minerals and electrolytes to support rapid rehydration and recovery.

Electrolytes are derived from organic coconut water, organic banana, organic pineapple, Himalayan sea salt, organic tart cherry, and plant-based trace minerals.

Great for endurance athletes, intra and post-workout, excessively hot weather, and general hydration. Nothing artificial, no synthetic chemicals, and no added sugar!

Mix one scoop with 12 to 16 ounces of cold water, and drink during exercise or throughout the day for hydration. Depending upon your activity level, use 1 or more servings per day or anytime you need a great-tasting electrolyte drink for hydration.
More