Quick Links to Our Prices Price History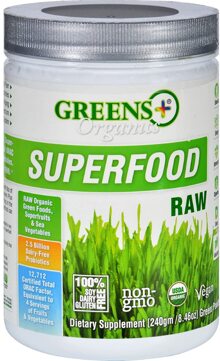 Greens Plus Smart & Fit Superfood
Advanced Multi Description from Greens Plus
ADVANCED MULTI is a 100% whole food multivitamin, multimineral & phytonutrient delivery system of RAW green foods, superfruits, sea vegetables, herbal extracts, probiotics, algae calcium & vitamin D3 with Madagascar vanilla bean & high-ORAC spice extracts. GREENS+ helping people live healthier, happier lives since 1989.

Supplies essential vitamins, bone-building minerals, powerful antioxidants & enzymes

Provides higher levels of energy and well-being for all your daily activities

Spices support brain chemistry, heart health, sexual health & longevity.

Enhances alkalinity and whole body detoxification for healthy aging

Delivers every vibrant color in the dietary food spectrum

Promotes a healthy digestive and immune system.
Supplement Facts
Serving Size: 8.9 grams
Servings Per Container: 30
Ingredient
Amount
% Daily Value**
Calories
32
Calories from Fat
8
Total Fat
0
Saturated Fat
0g
0
Trans Fat
0g
Cholesterol
0g
0
Sodium
22mg
1
Total Carbohydrate
4g
1
Dietary Fiber
2g
8
Sugars
Protein
1.4g
3
Vitamin A (100% Beta-Carotene)
1500IU
30
Vitamin B1 (Thiamine)
6.4mg
426
Vitamin B2 (Riboflavin)
5.6mg
329
Vitamin B3 (Niacine)
8.7mg
44
Vitamin B5 (Pantothenic Acid)
9.1mg
91
Vitamin B6 (Pyridoxine)
3.8mg
190
Vitamin B7 (Biotin)
3mcg
1
Vitamin B9 (Folate)
156mcg
39
Vitamin B12 (Cyanocobalamine)
1.3mcg
22
Vitamin C
18mg
30
Vitamin D
787IU
197
Vitamin E
100IU
333
Vitamin K
50mcg
63
Calcium
418mg
48
Chloride
32mg
1
Choline
68mg
16
Chromium
95mcg
79
Copper
30mcg
2
Iodine
22mcg
15
Iron
16mg
88
Magnesium
55mg
14
Manganese
600mcg
30
Molybdenum
Phosphorus
79mg
8
Potassium
122mg
3
Sulfur
20mg
3
Zinc
120mcg
1
Greens Plus Superfood MultiVitamin Blend
3502mg
-Lecithin (from non-GMO Sunflower Seeds)[24% Phosphatidyl Choline]
1495mg
-Organic Wheat Grass
600mg
-Organic Barley Grass
570mg
-Organic Alfalfa Grass
300mg
-Spanish Bee Pollen
150mg
-Royal Jelly
150mg
Organic B-Complex (from Guava,Holy Basil & Lemon Extracts)
100mg
-Organic Red Beet Juice (Beta vulgaris)
50mg
-Natural Vitamin D3 (Cholecalciferol)
400IU
-Natural Vitamin E (d-alpha-tocopherol-succinate)
100IU
Greens Plus Sea Vegetable MultiMineral Blend
1443mg
-Earthrise Spirulina (Arthrospira pletensis)
563mg
-AlgaeCal Plant Calcium (Algas calcareas)[28% Calcium]
350mg
-Japanese Chlorella (Chlorella vulgaris)
350mg
-Organic Fulvic Acid [10:1]
120mg
-Dunaliella Saline Algae [7.5% Beta-carotene]
40mg
-Organic Nova Scotia Dulse (Palmeria plamata)
20mg
Greens Plus Smart & Fit Spice Blend
3000mg
-Madagascar Vanilla Bean Extract (Vanilla plantifolia)
1070mg
-Cinnamon Bark Powder (Cinnamomum verum)
300mg
-Cinnamon Bark Extract [8% Flavonoids]
150mg
-Ginger Root Powder (Zanaibar officinale)
300mg
-Ginger Root Extract [5% Ginaerols]
100mg
-Maca Root Powder (Leoidium mevenil)
300mg
-Maca Root Extract [0.6% Glucosinolates]
100mg
-Turmeric Root Powder (Curcuma longa)
300mg
-Turmeric Root Extract [95% Curcuminoids]
80mg
-Ashwagandha Root Powder (Withania somnifera)
300mg
High-ORAC Antioxidant Fruit Extracts
495mg
-Organic Appleboost (Dehydrated Apple Peel Powder)
350mg
-Camu Camu Berry (Myrciaria dubia)[30% Natural Vitamin C]
115mg
-Full Spectrum Grape Seed and SKin (Vitis vinefera)[5% Resveratrol]
20mg
-European Bilberry (Vaccinum myrtillus)[25% Anthocyanidins]
10mg
Standardized Herbal Extracts
260mg
-Milk Thistle Seed (Silybum marianum)[86% Silymarin]
60mg
-Siberian Eleuthero Root (Eleutherococcus senticosus)[0.8% Eleutherosides]
60mg
-Astragalus Root (Astragalus membranaceus)[0.16% Isoflavones]
60mg
-Licorice Root (Glycyrrhiza glabra)[5% Glycyrrhizin]
60mg
-Japanese Green Tea Leaf (Camellia sinesis)[50% Polyphenols,15% EGCG)
20mg
Dairy-free Probiotic Cultures
200mg
-L. Acidophilus, L. Casei, L. Plantarum, L. Rhamnosus,
200mg
-Bifidobacterium Breve and Longum with Fructo-Oligosaccharides
** Percent Daily Value is based on a 2000 calorie diet. Your daily values may be higher or lower depending on your calorie needs.
† Daily Value not established.

Ingredients:
Other ingredients: Natural Vanilla Flavor, Silicon Dioxide.
Manufacturer's Directions
Simply mix 1 scoop of Advanced Multi with 8oz of cold water or your favorite beverage. Shake briskly in a Greens Plus BlenderBottle. Sip and enjoy! Take Advanced Multi first thing in the morning as a perfect way to energize your day. Advanced Multi can be taken twice per day.
Manufacturer's Disclaimer
This product contains Wheat Grass and is manufactured in a facility that processes Soy and Dairy ingredients. MADE IN THE USA.

Advanced Multi is filled by weight, not by volume. Settling may occur. Refrigerate after opening.