Quick Links to Our Prices
How does this work and how do stores get listed? See our disclosure below to learn more. Price History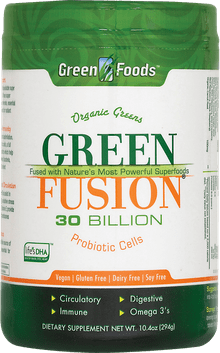 Green Fusion - 30 Billion Probiotic Cells Description from Green Foods
Unsurpassed Nutritional Support
Green Fusion is a harmonized blend of bioavailable super foods that provide the utmost in nutrition. These super foods provide an abundance of vitamins, minerals, essential fatty acids and proteins that the body needs for radiant health.

Green Fusion contains 30 billion probiotic cells, a full spectrum of enzymes and powerful prebiotics which help keep the natural balance of healthy intestinal bacteria, boost the immune system, and increase nutrient absorption.
Supplement Facts
Serving Size: 1 scoop(9.8g
Servings Per Container: 15
Ingredient
Amount
% Daily Value**
Calories
50
Calories from Fat
9
Total Fat
0.6g
2
Saturated Fat
0.2g
Trans Fat
0g
Polyunsaturated Fat
0.3g
Monounsaturated Fat
0.06g
Cholesterol
0mg
0
Sodium
41mg
2
Potassium
206mg
6
Total Carbohydrate
5g
8
Dietary Fiber
3g
20
Sugars
1g
Protein
3g
6
Vitamin A
0g
0
Vitamin C
20mg
33
Calcium
32mg
3
Magnesium
24mg
6
Iron
2mg
18
Vitamin B12
82mcg
1366
Vitamin K
50mcg
62
Organic Cereal Grass Juice Extracts
-Organic Barley Grass Juice Extract
600mg
-Organic Kamut Grass Juice Extract
600mg
-Organic Oat Grass Juice Extract
600mg
-Organic Wheat Grass Juice Extract
600mg
Prebiotics & High Fiber Foods
-Fructo-oligosachharides
700mg
-Stabalized Brown Rice Bran
400mg
-Chicory Root
300mg
-Organic Whole Apple Fruit Juice
250mg
-Organic Hemp Seed
100mg
Single Celled Nutrition
-Organic Spirulina
1000mg
-Organic Broken Cell Wall Chlorella
300mg
-Organic Klamath Blue Green Algae
100mg
Organic Green Leaf Powders
-Organic Parsley Leaf
500mg
-Organic Spinach Leaf
300mg
-Organic Cilantro Leaf Juice
300mg
-Organic Kale Leaf
100mg
Antioxidants Super Blend
-Acerola Berry Juice
200mg
-Organic Freeze Dried Berry Blend
100mg
--Wild Bilberry, Wild Lingonberry, Black Currant, Aronia, Pomegranate, Wild Blueberry, Concord Grape
--Sour Cherry, Wild Elderberry, Wild Cranberry, Red Raspberry, Black Raspberry
-Organic Carrot Root
100mg
-Silymarin Milk Thistle Fruit Extract
60mg
-Grape Seed Standardized Extract
20mg
Green Tea Leaf Standardized Extract
20mg
Black Tea Leaf Extract
20mg
Pomegranate Fruit Extract
20mg
Resveratrol
20mg
Cellular Function & Brain Support
-Raw Sunflower Lecithin
400mg
-Life's DHA
250mg
-Vitamin E
50IU
167
-Sugar Cane Extract
30mg
Organic Sprouts
-Organic Quinoa Sprouts
200mg
-Organic Sunflower Sprouts
100mg
-Organic Chia Sprouts
100mg
-Organic Amaranth Sprouts
100mg
-Organic Broccoli Seed Sprouts
100mg
Tonics & Taste
-Brown Rice Solids
300mg
-Organic Ginger Root
20mg
-Stevia Extract
10mg
-Cayenne Pepper Fruit
2mg
Sea Vegetable Powders
-Organic Nova Scotia Dulse Leaf
100mg
-Wild Bladderwack Leaf
100mg
-Kelp
100mg
Adaptogens (Herbs)
-Schizandra Berry Extract
150mg
-Suma Powder Root Extract
60mg
-Rhidola Extract
40mg
Immune Support
-Agaricus Blazei Murill
90mg
-Larch Arabinogalactan
30mg
Over 30 Billion Dairy & Soy Free Active Probiotic Cells (at time of manufacturing)
-Lactobacillus plantarum
27bil
-Streptococcus thermophilus
2.5bil
-Lactobacillus casei
.5bil
Enzyme Complex
-Cellulase AN
500CU
-Amylase
400DU
-Lipase
250FIP
-Protease 4.5
500HUT
-Invertase
55SU
-Protease 6.0
250HT
** Percent Daily Value is based on a 2000 calorie diet. Your daily values may be higher or lower depending on your calorie needs.
† Daily Value not established.

Manufacturer's Directions
Dissolve one scoop (9.8g) into 4 to 8 oz of water or your favorite juice.