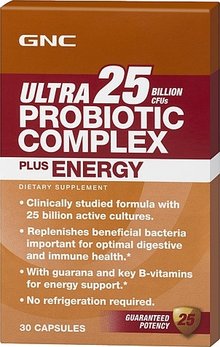 GNC Ultra Probiotic Complex 25 Plus Energy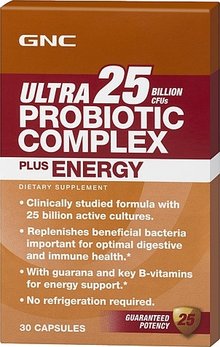 GNC Ultra Probiotic Complex 25 Plus Energy
DAILY ENERGY PERFORMANCE ENERGIZER
Natural Ingredients Clinically Studied to Boot Energy with Green Tea, Black Tea, Guarana & Rhodiola*
Functional, Whole-Food Based Blend for Daily Antioxidant Support*
Healthy Carbohydrates for a Quick Energizing Pre-Workout Boost*
GNC PUREDGE™ sets the new standard for quality, nature-based sports nutrition without sacrificing delicious taste or the performance benefits you'd expect from the industry leader by providing powerful natural compounds and clinically studied ingredients. Each product is certified banned substance free, contains no unhealthy artificial additives, and features a powerful Functional Flavor System that utilizes active flavoring ingredients to go beyond delicious taste and deliver additional healthy functional benefits. These innovative products give you a strong and wholesome foundation for personal improvement in any fitness pursuit.*Daily Energy provides you with potent energy from natural herbal teas; the highest quality carbohydrates plus clinically studied beta-alanine, and fruit and vegetable extracts. This convenient formula provides a healthy energy boost to help jumpstart your day or workout.* Whether you're trying to beat your physical record or looking for a healthy boost to your day, every ingredient is working for you.
Natural caffeine sources to support mental alertness, reaction time, endurance and performance*
Clinically studied beta-alanine provides a muscle buffer to support fatigue-controlling factors*
High-quality carbohydrates from waxy maize and cyclic dextrin supply quick energy for a healthy pre-workout boost*
Powerful grape seed, clinically proven to support blood vessels, for a healthy heart*
The GNC Functional Flavor System provides amazing taste plus functions as a system to provide additional health support. Instead of artificial ingredients, this system uses sweet and tart cherries, providing anthocyanins and antioxidants, to provide a great-tasting flavor while protecting healthy cells from damaging free radicals.* Even the delicious natural flavor is working for you!