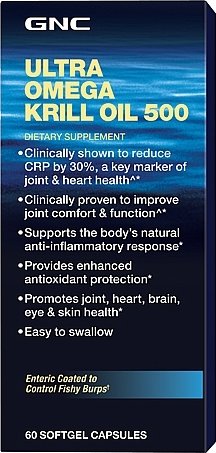 GNC Ultra Omega Krill Oil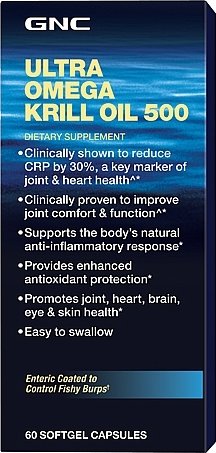 GNC Ultra Omega Krill Oil
500 mg of krill oil enhanced omega absorption.
Clinically proven to promote joint and heart health.
Provides enhanced antioxidant protection.
Easy to swallow

GNC UltraOmega Krill Oil features 500 mg of clincially proven Neptune Krill Oil. Krill are tiny crustaceans that are harvested from the cold waters of the Antarctic.
Neptune Krill Oil Benefits:

Delivers superior bioavailability of the omega-3 fatty acids, EPA and DHA, compared to other omega-3 source. These omega-3 fatty acids are uniquely bound to phospholipids, enhancing their absorption.
Fast-acting, clinically proven to improve joint comfort and function.
Clinically proven to reduce C-Reactive Protein (CRP) levels by 30% a key marker of joint and heart health.
Provides critical antioxidants like astaxanthin with higher antioxidant activity than other popular antioxidants to combat harmful free radicals associated with cell-aging
In a randomized, double-blind, placebo controlled clinical study, 87 volunteers were supplemented with either 300 mg of Neptune Krill Oil or placebo. After 30 days, subjects receiving Neptune Krill Oil had a significant decrease in CRP, a biomarker for heart and joint health, as well as significant improvements in joint comfort, joint function and stiffness.
GNC Quality Commitment
GNC, the leader in the development and manufacture of dietary supplements is committed to producing the highest quality products available. This commitment begins with quality designed supplement formulations. Every raw material that goes into a GNC supplement is guaranteed as to quality and potency. Each product is dated and then shipped immediately to our stores, so you can be sure you are purchasing the freshest supplements available. At GNC, we extend out quality commitment to you by offering our money-back guarantee.
Use any GNC supplement for as little as 10 days. If you are not 100% completely satisfied, return the unused portion of the product with proof of purchase to your GNC store for a complete refund of your purchase price. No questions asked!