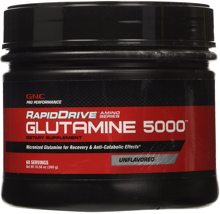 GNC RapidDrive Glutamine 5000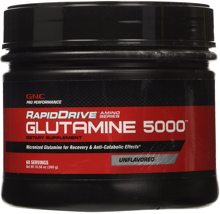 GNC RapidDrive Glutamine 5000
Dietary Supplement
Micronized Glutamine for Recovery & Anti-Catabolic Effects
Glutamine is one of the most abundant amino acids. It is involved in protein synthesis and plays an important role in hydrating muscle cells. With this amino acid's great benefits in the body, it will support muscle function.
The unique RapidDrive Technology makes this supplement more advanced than regular glutamine supplements. The glutamine molecules have been pulverized, or "micronized," from large molecules into smaller particules that deliver fast fuel for powerful performance and are easier for muscles to absorb. You can expect recovery support with this rapid source of intramuscular nitrogen. The result is a powerful anti-catabolic formula.
Best of all, it mixes easily in any beverage or sports drink and tastes absolutely refreshing.