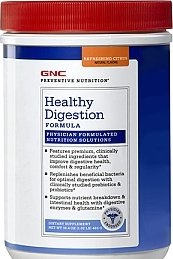 GNC Healthy Digestion Formula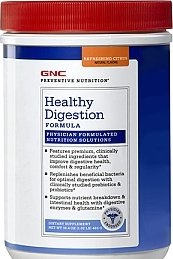 GNC Healthy Digestion Formula
Physician Formulated Nutrition Solutions
Features premium, clinically studied ingredients that improve digestive health, comfort & regularity*
Replenishes beneficial bacteria for optimal digestion with clinically studied prebiotics & probiotics*
Supports nutrient breakdown & intestinal health with digestive enzymes & glutamine*
Preventive Nutrition Healthy Digestion Formula
contains premium, clinically studied ingredients, additional key nutrients and a lifestyle program designed to support regularity and optimal digestive health.* This multi-action formula provides a specialized blend of prebiotics, probiotics, fiber, enzymes and herbs designed to maximize intestinal function and promote healthy digestion .
Fiber -
Includes a premium from of fiber clinically shown to improve regularity and digestive function.* Fiber increases bulk and aids transit of food through the intestines, provides relief from occasional constipation, gently cleanses the colon and helps eliminate toxins from the body.
Prebiotics & Probiotics -
Provides BiMuno , a prebiotic ingredient clinically shown to improve the growth of healthy bacteria in the digestive tract in as little as 7 days. It also contains 12.5 billion live, active probiotics that work to keep a healthy balance of intestinal flora by reducing the amount of harmful bacteria in the digestive tract and stimulating the growth of beneficial "friendly" bacteria.* Probiotics have also been shown to reduce bloating and stomach discomfort.*
Nutrient Absorption -
Features the important amino acid glutamine, including fast-absorbing micronized glutamine.* Glutamine helps fuel the immune system, helps maintain proper intestinal function and plays a key role in cell hydration.* Also provides digestive enzymes with proven bioactivity for added digestive support.
GNC Preventive Nutrition products have been scientifically developed utilizing the expertise of the GNC Medical Advisory Board. Each premium formula is designed to be used in conjunction with your physician recommended healthcare regiment. This line of products is precisely formulated to provide clinical strength ingredients and additional nutrients that address key health concerns.
Developed with and Endorsed by GNC Medical Advisory Board – Advanced Knowledge For Better Health
The GNC Medical Advisory Board utilizes their in-depth medical knowledge and experience to aid in the creation and ongoing development of GNC products, helping GNC stay on the forefront of product innovation and delivering on our commitment to helping you LIVE WELL.
* These statements have not been evaluated by the Food and Drug Administration. This product is not intended to diagnose, treat, cure, or prevent any disease.