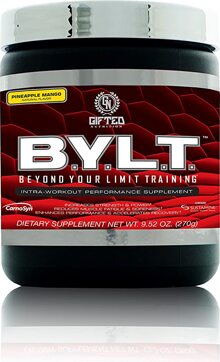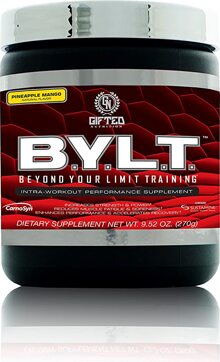 B.Y.L.T.
During exercise and intense training your body produces lactic acid which causes pH levels to drop, resulting in an acidic environment. This can quickly lead to cramping, fatigue, and tissue damage. BYLT contains a scientifically formulated blend of key ingredients designed to help you reduce muscle fatigue & soreness, rehydrate the body and sustain energy levels during exertion allowing your body to go beyond your limits.*
Carnosyn Beta-Alanine:
Beta-alanine is a non-essential amino acid. Beta-Alanine can be found as a component of a dipeptide in chicken and fish. In the body, beta-alanine is combined with the amino acid histidine to form carnosine. Muscle carnosine buffers the hydronium ions that lead to muscle fatigue and failure. CarnoSyn has been tested on a wide range of athletic performance, including sprinting, cycling, rowing, and weight lifting!*
How do Dipeptides Speed Absorption and Recovery?
A dipeptide is a bonded chain of two amino acids, in this case, L-Glutamine and L-Alanine. Smaller than a complete protein, the dipeptide Sustamine is absorbed faster than individual amino acids. To get into cells, dipeptides and amino acids must wait for a "transporter". A transporter can carry either a single amino acid or a dipeptide through the cell barrier at once. Through coupling for transport, dipeptides drastically reduce the time and energy needed for cellular recovery.
Why Combine L-Glutamine with L-Alanine?
Combined into a single dipeptide, L-Alanyl-L-Glutamine, Sustamine helps the body restore better than L-Glutamine or L-Alanine alone. Sustamine supplies vital nutrients and supplies the body with the protein precursors needed to rebuild muscle tissues after moderate and intense exertion.* Sustamine helps refill depleted glycogen stores and replenishes energy stores.* In fact, studies show that L-Alanine may contribute up to 45% of the glucose released from the liver during prolonged exercise.* It may also Increase electrolyte and water absorption, helping to keep you hydrated throughout the day.*
Modulates immune response.*
L-Glutamine has been shown to effectively modulate the body's immune response to exercise.*
Fights free radicals.*
The combination of L-Glutamine and L-Alanine has been shown to support the body's natural antioxidant defense against the oxidative stress produced by free radicals.*
Increases product stability and quality.
Research indicates that combining L-Glutamine with another amino acid to form a substrate is more stable and less subject to degradation at high temperatures than L-Glutamine alone. This prolongs shelf life and enhances quality.