Quick Links to Best Prices Price History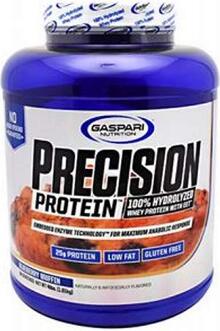 Gaspari Nutrition Precision Protein
100% HYDROLYZED whey protein
with Embedded enzyme technology™ (EET™) for maximum anabolic response
Gaspari Nutrition is proud to announce, Precision Protein™, a new breakthrough in whey protein performance. This innovative new protein utilizes a proprietary process known as Embedded Enzyme Technology (EET). This new technology functions within a phospholipid matrix that releases Leucine and other amino acids early in the muscle synthesis process. While other methods randomly hydrolyze the protein, EET is engineered to selectively release Leucine peptides producing an increase in muscle synthesis and growth.*
Our Precision Protein Review
Wow! We knew this would be good, but the neapolitan flavor shattered all expectations!

In Stage 1 of the hydrolysis, the water activity is limited so the enzyme action is suspended. When water is added to the protein, Phase 2 begins by rapidly releasing more Leucine peptides increasing the body's ability to absorb amino acids.
Thanks to Embedded Enzyme Technology, Precision Protein has changed the protein game forever. With increased Leucine Peptides being released into your system, your rate of recovery, muscle growth, and athletic performance will be taken to entirely new levels, unlike any other protein on the market can provide.*
MORE THAN PROTEIN
THE BENEFITS OF EMBEDDED ENZYME TECHNOLOGY (EET)
Increased amounts of Leucine Peptides for Enhanced Anabolism*
Increased Hypertrophic Growth & Protein Synthesis*
Upregulation of the mTOR Signaling Muscle Building Pathway
Enhanced Bioavailability & Uptake of BCAAs and EAAs
Empowering Real People With Real Science
Gaspari Nutrition represents the ultimate bridge between clinical science and real world results. Offering the most cutting edge and innovative ingredients & formulas available, Gaspari Nutrition gives you an advantage on the competition like nothing else can. This advantage begins with premium quality raw materials and extends into our unrivaled cGMP certified manufacturing facility. Once it is in your hands, you will have the most tested, tried and proven supplements to help you take your training and physique to the next level.