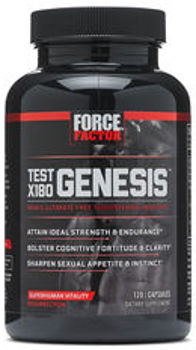 Force Factor Test X180 Genesis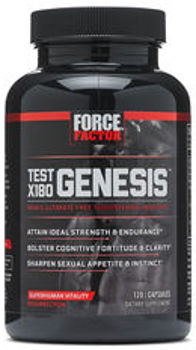 Force Factor Test X180 Genesis
Man's Ultimate Free Testosterone Booster
Attain Ideal Strength & Endurance*
Bolster Cognitive Fortitude & Clarity*
Sharpen Sexual Appetite & Instinct*
The Science of Male Supremacy
Man's ultimate free testosterone booster necessitates the perfect combination of purposefully chosen ingredients to ensure superior results. The formulators behind the award-winning line of premium Force Factor supplements spared no expense in crafting Test X180 Genesis.
Composed of three primary blends, Test X180 Genesis targets the trinity of masculinity: strength, cognitive primacy, and sexual aptitude.
Ashwagandha is one of the most powerful adaptogenic herbs known to science, and a specially concentrated form of it confers significant benefits at the precise dosage included in Test X180 Genesis.
This unique ingredient, known as KSM-66, has been shown in clinical studies to improve strength and edurance, while another rare ingredient, Testofen, helps to increase lean muscle mass.*
KSM-66, whose bioavailability and absorption are enhanced by BioPerine, also works to ensure you maintain your mental edge - fortifying the cognitive prowess that gives us a natural advantage over our enemies. While it reduces stress, it also promotes brain function and processing, sharpens mental clarity, improves focus and attention, and supports healthy memory, helping you become more of the fully present and aware ideal man you know you're capable of being.
Testofen is the patented fenugreek seed extract that modern science has shown to have a significant impact on male vitality and virility, especially when reinforced by the critical ingredients in the Supreme Testosterone Support Complex. After resistance training, a noticeable increase in unbound testosterone is just the beginning. Sex drive and libido are heightened. Physical performance rises to an entirely new level. Masculinity reaches an intensity previously thought to be unattainable. What it means to be a man finally comes into focus.
If you crave the desire and stamina to repopulate the earth when called upon, look no further than Test X180 Genesis. It is guaranteed to help you discover what it means to be the ultimate man - the man God intended you to be.