Warning: This product is not currently available at any store.
Click the button above and PricePlow will email you when the first store has it in stock!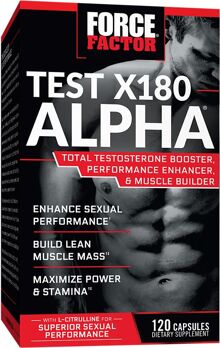 Force Factor Test X180 ALPHA
Heighten Libido
Enhance Sexual Performance
Strength Blood Flow
Build Lean Muscle Mass
Maximize Power & Stamina
Are You an Alpha Male?
Deep within every man is the primal desire to rise to the top – to improve, to perfect, to become invincible. Only a select few live to redefine the limits of masculinity, while the rest know nothing but mediocrity. These are the men who blast through the most grueling workouts with unparalleled ferocity, and still have the energy and desire for something more. With Test X180 Alpha, you are invited to join the ranks of these few elite men for whom explosive sexual performance and impressive physical strength are a way of life. It's time to answer the call: are you an alpha male, or are you just one of the pack?
Test X180 Alpha delivers the unadulterated fuel you need to help reach the pinnacle of sexual and physical performance. When paired with your workouts, the natural ingredients Testofen is clinically demonstrated to raise your body's free testosterone levels for dramatic increases in libido, strength, and stamina. L-citrulline catalyzes the production of nitric oxide for increased blood flow throughout your body, revolutionizing what you only dreamt possible in the gym and in the bedroom. Both ingredients are natural, so you can safely satisfy your primal instincts and assume your role as alpha male.
The Science of Elite Performance
Alpha males don't settle for mediocrity. Yet, many men unnecessarily go through life without ever fully realizing their physical strength and sexual potential. Test X180 Alpha offers the complete solution for staggering virility, from domination tough workouts in the gym to exceeding expectations in the bedroom.
Many elite testosterone boosters-even those that claim to ignite your libido-don't always give you the energy, power, and stamina you need to fully satisfy your desire. The scientist at Force Factor knew they needed a game-changing ingredient to help you take your performance to new extremes. They met this challenge with the inclusion of L-citrulline, a potent amino acid that boots nitric oxide production. This is the key to mind-blowing performance. Nitric oxide acts as a vasodilator to increase blood flow, amplifying oxygen and nutrient delivery to your muscles during workouts and helping intensify your experience in the bedroom.
The Force Factor team perfected the Test X180 Alpha formula with one of the only natural ingredients clinically demonstrated to increase free testosterone levels: Testofen . Testofen works in conjunction with your workout routine, resulting in soaring sex drive, endurance, and power. With Test X180 Alpha, you'll start to transform your physique and have better sex. End of story.
Test X180 Alpha makes you feel invincible, and to top it all off, it's safe, natural, and free of banned substances. Even if you think you've done it all, you haven't experienced anything quite like this. Don't settle for mediocrity. Unleash Your Potential with Test X180 Alpha.
* These statements have not been evaluated by the Food and Drug Administration. This product is not intended to diagnose, treat, cure, or prevent any disease.