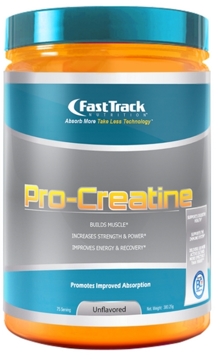 Fast Track Nutrition Pro Creatine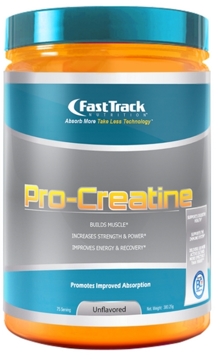 Fast Track Nutrition Pro Creatine
Benefits:- Builds muscles
- Increases strength & power
- Improves energy & recovery
- Promotes improved absorption
- Supports digestive health
- Supports the immune system
- Delivers 10X more active cultures more effectively than yogurt
At Fast Track Nutrition we have but one goal, to get your hard working body the nutrition it needs to thrive. No longer do you have to over think or over take supplements to get minuscule amounts of ingredients and little benefit.
Our delivery system binds superior nutrition with probiotic powerhouse GanedenBC30 getting it to your digestive tract where it's absorbed quickly and completely. Our Absorb More Take Less Technology means you get the support your body needs, and the results you deserve at a price that makes sense. Welcome to the Fast Track.
Fight back the urge to quite and get the most out of your workout with Creatine Monohydrate. Creatine monohydrate is a natural substance found in the body and in some foods like oily fish and red meat. Creatine monohydrate turns into Creatine phosphate, which makes adenosine triphosphate (ATP). It's ATP that provides the immediate source of energy for muscle contraction. The problem is muscle fibers don't contain enough ATP to fuel a resistance or endurance athletes' workout. Having a good supply of ATP available may give you the added power and energy needed to dig deeper in your workouts for better results.
ADDED BENEFITS: Stacks well with Pro Meal, Fast Whey, Fast Gainer, Pro Creatine and Pro BCAA.
These statements have not been evaluated by the Food and Drug Administration. This product is not intended to diagnose, treat, cure, or prevent any disease.