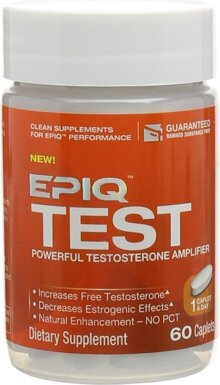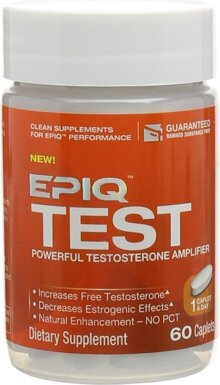 New! Powerful Testosterone Amplifier
Increases Free Testosterone
Decreases Estrogenic Effects
Natural Enhancement – NO PCT
Clean Supplements for EPIQ™ Performance
Guaranteed Banned Substance Free
EPIQ™
is a line of guaranteed clean, powerful and effective supplements formulated for elite athletes who demand the highest quality for EPIQ™ performance.
EPIQ™ Guaranteed Supplements are:
Free of banned substances
Free of artificial colors or dyes
Free of harmful impurities
Free of undeclared ingredients
Developed with scientifically researched key ingredients
Manufactured according to current Good Manufacturing Practices (cGMP) standards, as is required for all dietary supplements
Made in the U.S.A. from international and domestic ingredients.
EPIQ™ TEST – Powerful Testosterone Amplifier
The powerful formula is designed to work with your body to naturally increase testosterone production for that added edge Unlike other test products where you have to take 4 to 6 capsules a day, the potent, clean EPIQ™ TEST formula delivers results in just 1 pill a day.
What Makes the Formula EPIQ™
Delivers a precise dose of boron shown in human clinical research on men to increase free testosterone within the normal range and decrease estrogenic activity in just seven days
Natural anabolic results without the negative androgenic and estrogen-related side effects – NO PCT.
Delivers one of the highest concentrated extracts of tribulus available (45% saponins)
Formulated with other well-known ingredients such as stinging nettle leaf, maca root, fenugreek seed, and beta-sitosterol.
No cycling on or off required.
Just 1 pill a day, not 4 to 6 capsules like other test-boosting products