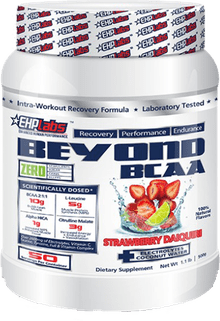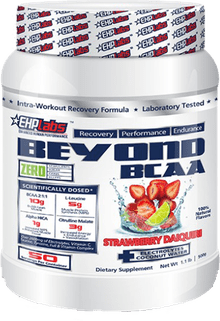 GOING ABOVE AND BEYOND BCAAS
ADVANCES ENDURANCE AND STAMINA
MINIMIZES MUSCLE BREAKDOWN*
ENHANCED RECOVERY TIME BETWEEN WORKOUTS
PROMOTES PROTEIN SYNTHESIS
RECOVER FASTER WHILE PRESERVING MUSCLE
Beyond BCAA is the next level Branched Chain Amino Acid supplement, engineered to provide more than just your average muscle recovery. Formulated with a 2:1:1 ratio of Branced Chain Amino Acids consisting of Leucine, Iso-Leucine, and Valine, Beyond BCAA limits muscle breakdown and reduces lactic acid buildup.
Beyond BCAA also includes Alpha HICA (Hydroxy-Ispcaproic-Acid), an end product of Leucine metabolism. An anti-catoblic compound, Alpha HICA has been shown to induce small increases in muscle mass during intensive training periods.[1] Citrulline Malate, another first-rate muscle recovery ingredient, is incorporated to relieve post workout soreness.* Studies have shown that CM can decrease muscle soreness up to 40% at 24 and 48 hours post exercise.[2]
As an added bonus, Beyond BCAA includes an Endurance and Electrolyte blend to further support your recovery. Coconut water, Vitamin C, Potassium, Magnesium, Calcium, Sodium, and Tuarine are among the ingredients to ensure optimal muscle hydration.
If you are seeking a well rounded BCAA supplement, look no further. Beyond BCAA not only promotes muscle growth by encouraging lean muscle growth, but ensures maximum hydration and post training recovery.
References [+]
References [-]
[1] Mero, Antti A et al. Effects of Alfa-Hydroxy-Isocaproic Acid on Body Composition, DOMS and Performance in Athletes. Journal of the International Society of Sports Nutrition 7 (2010): 1. PMC. Web. 18 Nov. 2016.
[2] Pérez-Guisado, Joaquín, and Philip M. Jakeman. "Citrulline malate enhances athletic anaerobic performance and relieves muscle soreness. The Journal of Strength & Conditioning Research 24.5 (2010): 1215-1222. Retrieved 18 Nov. 2016.
* RESULTS MAY VARY