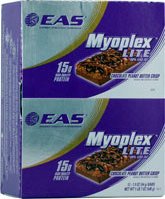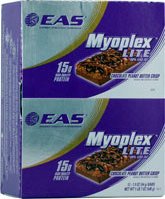 The Myoplex Lite Bar Is Available!
EAS Myoplex Lite Bars are formulated to support your body's thirst for the proper nutrients. Every time you eat a Myoplex Lite bar you are supporting your energy levels with the help of carbohydrates and necessary proteins. These proteins will aid in muscle recovery that is needed after exercise. 22 vitamins and minerals are also represented in order to make sure you get the most in nutrition out of these bars.
EAS Myoplex Lite Bars contain nearly half the fat and calories of the traditional Myoplex Deluxe Bar. If you are in need of quick nutrition and quality nutrients this is just what you need.
Each bar provides the perfect blend of complex and simple carbohydrates, which help maintain energy levels, necessary protein that speeds muscle recovery, and an excess of 22 vitamins and minerals.
Eat these bars whenever it is convenient for you. Good times for consumption of the Myoplex Lite bars include after workouts and as a mid-afternoon snack between meals.

Supplement Facts
Serving Size: 1 Bar
Servings Per Container: 12
Amount Per Serving:
Calories - 190
-Calories from Fat - 40
Total Fat - 4.5 g
-Saturated Fat - 2.5 g
Cholesterol - Sodium - 280 mg
Potassium - 200 mg
Total Carbohydrates - 27 g
-Dietary Fiber - 1 g
-Sugars - 16 g
Protein - 15 g
Vitamin A - 50%
Thiamin - 50% Vitamin B12 - 50%
Magnesium - 20%
Chloride - 2%
Vitamin C - 50%
Riboflavin - 50%
Biotin - 50%
Zinc - 25%
Calcium - 25%
Niacin - 50%
Pantothenic Acid - 50%
Copper - 30%
Iron - 35%
Vitamin B6 - 50%
Phosphorus - 30%
Chromium - 70%
Vitamin E - 50%
Folate - 50%
Iodine - 20%
Molybdenum - 2%
Ingredients:
Protein blend (soy protein isolate, whey protein isolate)
Fructose
Corn syrup
Polydextrose
Sugar
Fractionated palm kernel oil
Nonfat milk
High fructose corn syrup
Water
Vitamin and mineral blend (calcium phosphate, potassium phosphate, magnesium oxide, potassium chloride, ascorbic acid, ferric orthophosphate, dl-alpha-tocopherol acetate, niacinamide, calcium pantothenate, zinc oxide, chromium citrate, copper gluconate, vitamin A palmitate, pyridoxine hydrochloride, riboflavin, thiamin mononitrate, folic acid, biotin, potassium iodide and vitamin B12)
Milk
Maltodextrin
Spice
Caramel (for color)
Nonfat yogurt powder (cultured whey, nonfat milk)
Guar gum
Salt
Soy lecithin
Whey
Dextrose
Titanium dioxide (for color)
May contain traces of peanuts
Various nuts and seeds

Directions
Unwrap and enjoy!