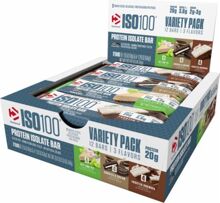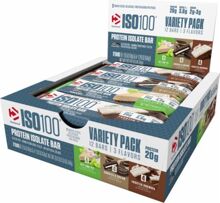 RAISING THE BAR.
2 Snack-Sized Delicious Bars Per Pack.
20g of protein.
no artificial colors.
banned substance tested.
TYPICAL AMOUNTS PER SERVING
20
GRAMS OF PROTEIN
4.2
GRAMS OF BCAAs
8
GRAMS OF FIBER
2
GRAMS OF SUGAR
GLUTEN
FREE
CLAIMS VARY BY FLAVOR
Why iso100 protein isolate bar?
This protein isolate bar gives you high-quality protein in a convenient, on-the-go, 2-piece bar. A delicious, creamy coating, combined with the chocolatey deliciousness of Cookies & Cream, the tropical delight of Key Lime Pie or the decadent pleasure of Frosted Brownie, helps you crush those cravings so you can snack without the guilt.
ISO100 Protein Isolate Bars are gluten free and banned substance tested for quality assurance. ISO100 does not amino spike, which means the 20 grams of protein are derived from intact protein sources. And because we've taken convenience to the next level, ISO100 Protein Isolate Bars come in two pieces—devour the entire bar now, or enjoy half now and half later.
• 2 snack-sized, delicious, protein bars per pack.
• At least 20g of high-quality Whey Isolate Protein.
• 3.8g or MORE of BCAA's proven to help build muscle and aid in recovery.*
• 3g or LESS of Sugar to support your training goals.*
BRING YOUR PROTEIN WITH YOU.
2 SNACK-SIZED BARS • 20 GRAMS OF PROTEIN ISOLATE
MIKE HILDEBRANDT
NPC PHYSIQUE COMPETITOR
AVAILABLE IN 3 MIND-BLOWING FLAVORS
FROSTED BROWNIE
KEY LIME PIE
COOKIES & CREAM