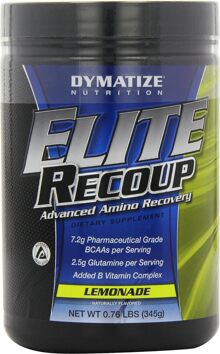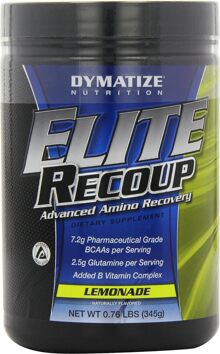 Dymatize Recoup is designed to help you speed recovery and reduce muscle breakdown. In addition, Recoup is designed to help enhance cell volumization, promote vasodilation which may lead to better protein absorption and aid in immune and digestive health.
Recoup's advanced blend of BCAA's and B vitamins are formulated to help:
Accelerate Recovery Time After Strenuous Workouts*
Reduce Muscle Tissue Breakdown*
Enhance Cell Volumization for Strength and Size*
Promote Vasodilatation for Better Protein Absorption*
Recoup is an advanced blend of the 3 Branch Chain Amino Acids, L-Leucine, L-Valine and L-Isoleucine. Each serving provides a full 7.2 grams of these essential amino acids that play such an important role in recovery after a period of stress such as an intense workout. These pharmaceutical-grade BCAAs are supplemented with pure Free Form L-Glutamine and Citrulline Malate. In addition, a full complement of the B vitamins have been added. These include Thiamin (B1), Riboflavin (B2), Niacin (B3), Pantothenic Acid (B5), Pyridoxine (B6) and Cyanocobalamin (B12).