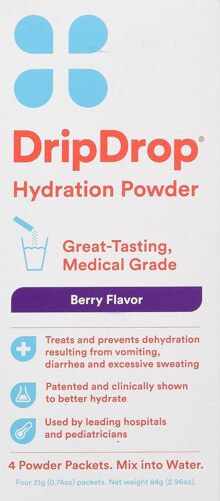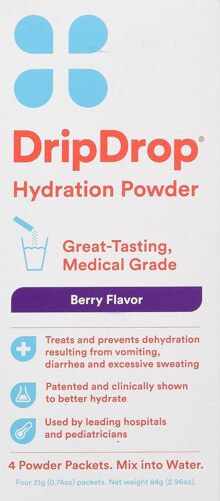 DRIPDROP ELECTROLYTE POWDER: Great tasting DripDrop ORS electrolyte powder can be used by adults or kids to hydrate after exercise, heat exposure, travel & sickness. DripDrop is more effective than sports drinks & meets World Health Organization ORS standards.

ORS IS AS EFFECTIVE AS AN IV- The DripDrop ORS patented solution is based on Oral Rehydration Therapy (ORT), a medically recognized, optimal way to treat dehydration. DripDrop delivers the proven science behind ORT making it as effective as an IV* and it tastes great.

3x THE ELECTROLYTES AND HALF THE SUGAR of typical sports drinks. Formulated by a doctor, DripDrop ORS relives the symptoms of dehydration that can be caused byworkouts, illness, travel, over-indulgence, heat exhaustion, altitude and cold & flu.

FAST DEHYDRATION RELIEF: DripDrop, a great addition to gym & travel accessories, is an Oral Rehydration Solution (ORS). ORS are proven to be as effective as an IV at treating dehydration, which can cause headaches, migraines, fatigue, muscle cramps & dizziness

STAY HYDRATED LONGER: DripDrop ORS has sodium, potassium, magnesium, & glucose. It works faster & keeps you hydrated for longer than just water, hydration drinks for kids, or sports drinks, & has 3x the electrolytes & 1/2 the sugar of sports drinks.
More