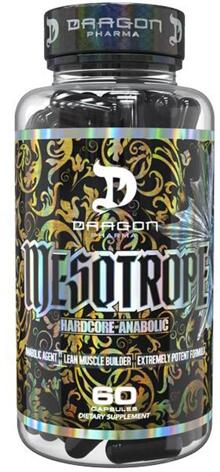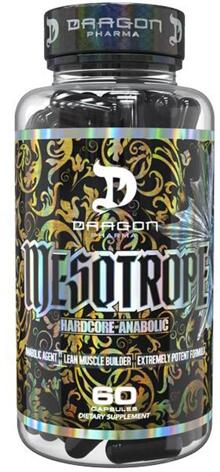 Dragon Pharma Mesotrope 60 Capsules | All-In-One Muscle Building Agent
Dragon Pharma's Mesotrope is a powerful well rounded muscle building supplement which contains 5 incredibly potent anabolic ingredients which aim to improve strength, muscle mass, and improve overall body composition and performance.
What is Dragon Pharma Mesotrope?
Dragon Pharma's Mesotrope is an all-in-one muscle building ProHormone formulated with 5 powerful anabolic ingredients. You don't need any complicated stacks, Mesotrope has everything you need contained within one supplement. This formula helps enhance testosterone while minimizing estrogen production.
Dragon Pharma Mesotrope Product Highlights
Powerful Anabolic Agent
Promotes Increases in Strength & Muscle Mass
Helps Reduce Body Fat
Faster Recovery Times
Improved Overall Training & Performance
Should I Take an Estrogen Blocker with Mesotrope?
There is no need to take an estrogen blocker with Mesotrope as it's included within the Mesotrope formula.
Can Women Use Dragon Pharma Mesotrope?
Women should not use Mesotrope, this product is formulated for men.
Directions
As a dietary supplement, take 1 capsule, twice daily with food.

Dragon Pharma Mesotrope 60 Capsules Supplement Facts
Serving Size: 1 Capsule
Servings Per Container: 60
Mesotrope Anabolic Matrix
3B-hydroxy-5a-androstan-17-one 100mg
Dehydroepiandrosterone 100mg
Mucuna Pruriens (98% L-Dopa) 50mg
5a-androstan-3a-ol-17-one 25mg
3AD Dehydroandrosterol 5mg
Black Pepper Extract 5mg
*The % Daily Value (DV) tells you how much a nutrient in a serving of food contributes to a daily diet. 2,000 calories a day is used for general nutrition advice.
*Daily Values Not Established
Other Ingredients: Gelatin, Rice Flour, Magnesium Stearate, Silicon Dioxide
Warnings
This product is intended for healthy men, 18 years of age or older. Consult a physician prior to using this, or any other dietary supplement. Not intended for use by women. Do not take this product if you have or suspect you may have a medical condition, or if you are taking any prescription or over-the-counter medications. Do not take this product if you are taking any blood pressure medication. Do not exceed the recommended serving. Immediately discontinue use and consult a qualified medical professional if you experience any adverse effects. KEEP OUT OF REACH OF CHILDREN.

References
Rutkowski K, Sowa P, Rutkowska-Talipska J, Kuryliszyn-Moskal A, Rutkowski R. Dehydroepiandrosterone (DHEA): hypes and hopes. Drugs. 2014;74(11):1195‐1207. doi:10.1007/s40265-014-0259-8

https://pubmed.ncbi.nlm.nih.gov/25022952/
Lampariello LR, Cortelazzo A, Guerranti R, Sticozzi C, Valacchi G. The Magic Velvet Bean of Mucuna pruriens. J Tradit Complement Med. 2012;2(4):331‐339. doi:10.1016/s2225-4110(16)30119-5
https://www.ncbi.nlm.nih.gov/pmc/articles/PMC3942911/
Granados J, Gillum TL, Christmas KM, Kuennen MR. Prohormone supplement 3β-hydroxy-5α-androst-1-en-17-one enhances resistance training gains but impairs user health. J Appl Physiol (1985). 2014;116(5):560‐569. doi:10.1152/japplphysiol.00616.2013

https://pubmed.ncbi.nlm.nih.gov/24381122/