Quick Links to Our Prices Price History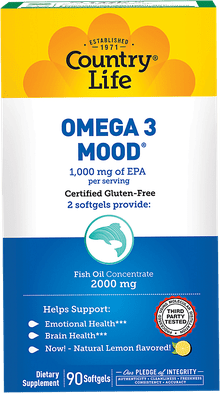 Country Life Omega 3 Mood
Research has suggested that countries with high rates of fish consuption have improved mental functioning, including mood. EPA has been identified as brain-boosting fatty acid.*
Omega-3 Fatty Acids Support:
Mood Regulation*
Brain Function Related to Learning*
Enhanced Energy Levels*
Stress Relief*
Essential Fatty Acid (EPA) plays numerous roles in brain function and has been suggested to help regulate mood.* As research continues to grow it is becoming evident that omega-3 fatty acids, especially EPA play a significant role in emotional and mental health.*
Purity Claims
Pure concentration of EPA (1,000 mg) from fish oil specifically designed to support benefits of EPA.
High grade fish oil concentrate.
Cold-water fish including sardines and anchovies provide a rich source of EPA.
Produced in Canada according to Good Manufacturing Practices (GMP).
Contains no artificial color or flavor, wheat, gluten, sodium, sugar, lactose, yeast, nut products, preservatives.
Contains no trans fatty acids.
Purity tested for pesticides, herbicides, PCBs and dioxins as well as heavy metals such as mercury.
This fish oil was processed using molecular distillation to ensure purity.
Health Claims
Omega 3 Mood is scientifically formulated to support healthy brain function, emotional and mental health and regulate mood.*
Clinical research has surmised that EPA helps regulate mood, without harmful side effects.*
EPA can be beneficial with regard to mood, age-related memory support and decreased stress.*